'Star Wars' Land And Marvel Roller Coaster Rumored For Disneyland And California Adventure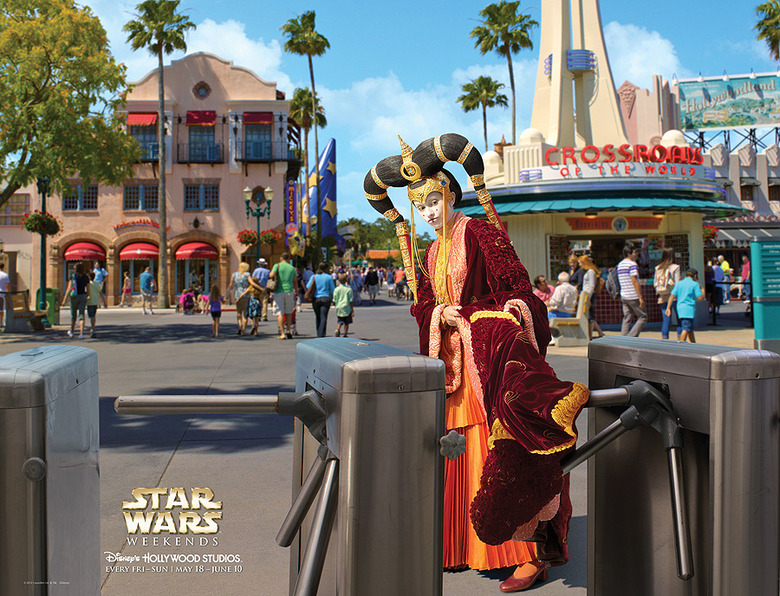 When Disney bought Marvel and Lucasfilm, they did it for more than movies. They did it for TV shows. They did it for merchandise and they did it for licensing. Also, they spent those billions to integrate both those properties into their theme parks. That has yet to happen in a major way, but it hasn't stopped the rumor mill from spinning. The latest possibility says Star Wars won't take over Disneyland's Tomorrowland as originally though. Instead, they might take over Toontown and a large section of the Big Thunder Ranch.
Also, a Marvel themed roller coaster is rumored to be under consideration for Disney's California Adventure, in a parking lot area, plus Frozen will take over a section of the park this holiday season and The Muppets could get a new movie. Read about all these latest Marvel and Star Wars Disneyland rumors below.
All these rumors come from the always fascinating Micechat column.
According to the Disneyland news site, the Star Wars Tomorrowland plan (which we wrote about here) got sidelined because of losses with the Magicbands at Walt Disney World. The new plan would be to totally remove Toontown (sorry Roger Rabbit fans) and make it Star Wars Land, with some bleed over into the Big Thunder Ranch area. Here's an excerpt:
The plans for Anaheim that WDI is currently mocking up in their dedicated Star Wars design studio now have an entirely new land being tacked on to the north of Frontierland and Fantasyland. The new Star Wars expansion would be accessed via the western flanks of Fantasyland beyond the old Skyway station, taking over the Big Thunder Ranch area and extending to the north beyond the railroad tracks. Where Toontown is now would be more expansion and a large show building, not unlike New Orleans Square with the show buildings for Haunted Mansion and Pirates of the Caribbean stashed unseen behind it. It's this show building on the Toontown plot where the bulk of the Star Wars E Ticket and some other indoor environments would reside.
Toontown has some popular attractions in it but this does make a lot of sense, especially since it would be easy to run the park as normal by just closing off that area.
So that's Star Wars, what about Marvel? Here's a Micechat excerpt:
 ...A proposal to put a Marvel themed version of Rock N' Roller Coaster tucked into the parking lot currently between Tower of Terror and Luigi's Flying Tires. ...  The proposal for a Marvel thrill coaster takes the concept of the Monsters Inc. door coaster still sitting on the back burner for DCA, and dials it up several notches. Where the Monsters Inc. coaster is proposed as a "family coaster" with a 38" or 40" height requirement, the Marvel coaster would be much more intense and have a 48" height requirement, the same as California Screamin'. TDA's research teams have bolstered the WDI proposal with plenty of fresh data showing that a thrill ride aimed at school aged boys and their fathers is exactly what's needed to give Anaheim's roster of attractions a boost with that important demographic. The new expansion would open in two phases, with the Marvel meet 'n greet facilities opening first just after the 60th while the coaster finishes construction in the parking lot beyond.
But that wouldn't be the only additions to that Hollywood backlot area of California Adventure. One might come as early as this year as Frozen characters are expected to move into the area for a meet and greet, as well as indoor ice skating. Plus, MuppetVision 3D might go dark giving fans an opportunity for a Frozen Sing-A-Long and more. Basically, it'll become a Frozen mini-land.
As for those Muppets, as Frozen takes over, apparently there's a new MuppetVision 3D movie in the works for 2016. Which is fantastic news.
You can read more about all these rumors changes over on Micechat. As for when they may or may not become official? Probably one year from now at the D23 Expo.