'The Death Of 'Superman Lives'; What Happened?' Trailer #2: Documentary On The Failed Tim Burton Film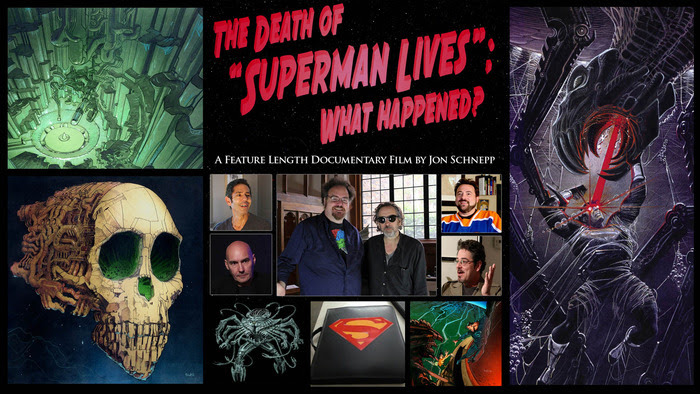 Superman Lives is one of the biggest mysteries in modern film history. After making the blockbuster superhero film Batman, filmmaker Tim Burton decided he would try to do something similar for Superman. Kevin Smith wrote a script, Burton cast Nicolas Cage in the lead role and got deep in to pre-production. However, at some point, it got canned. To this day, photos and videos from the pre-production set the Internet on fire.
But what happened? Well filmmaker Jon Schnepp decided to find out. He'a almost done with production on the documentary The Death of Superman Lives; What Happened? and to keep interest piqued, he's released a second full trailer in as many months. Check out The Death of Superman Lives trailer below.
Here's the second full trailer for The Death of Superman Lives; What Happened? For more, and to help with funds, visit this site.
As you can see, this trailer focuses on Burton's unique vision for Superman, something that no one had every seen before. It almost feels like he was going for more of a Alejandro Jodorowsky version of Superman than a DC Comics one. Translucent suit, animalistic Doomsday, space travel, aliens, the trailer even has some Hellraiser-esque concept art. Plus, you can see that almost everyone involved in this film, save for Cage, have been interviewed. It definitely looks like a very comprehensive history of this movie that never was.
Schnepp is close to crowd-funding the final funds needed to complete this documentary, which has been several years in the making. As someone who has long been fascinated not only with Superman Lives, but behind the scenes Hollywood stories in general, I hope he gets there. And who knows? Maybe if it gets completed and is successful, we can convince the director to next tackle the J.J. Abrams-written, McG-directed Superman Flyby, another Superman movie that never was.
What do you think about the The Death of Superman Lives trailer?