NBC Developing 'The Devil's Advocate' TV Series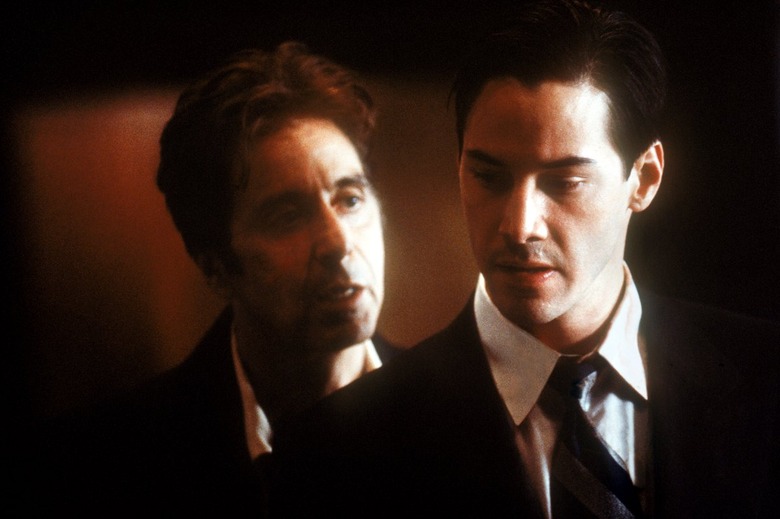 NBC's last attempt at rebooting an old property involving Satan didn't go so great, but they're going to try again anyway. The network is developing a TV series based on the 1997 movie The Devil's Advocate, about a young lawyer who realizes his boss is the Devil. In the literal sense, not the Devil Wears Prada sense. More details after the jump.
While The Devil's Advocate TV series has not yet secured a series order, it likely will at some point. Deadline reports NBC has given a put pilot commitment to the project, meaning it'll owe Warner Bros. significant money if it doesn't pick up the pilot.
Directed by Taylor Hackford, 1997's The Devil's Advocate was based on Andrew Neiderman's novel of the same title. Keanu Reeves starred as Kevin Lomax, a public defense attorney who accepts an offer to join a prestigious New York law firm run by John Milton (Al Pacino). Charlize Theron co-starred as Reeves's wife.
The film earned decent, not amazing, reviews, and grossed $153 million at the box office — a mere pittance compared to the $1 billion grosses of today's biggest hits, perhaps, but a solid return for a film that cost $57 million to make.
The Devil's Advocate likely wasn't high on any normal TV watcher's list of things they wanted to see remade, but that could work in its favor. The title is familiar (and catchy), but the property isn't so revered that a reboot is likely to get cinephiles grumbling.
Plus, the premise seems well suited for the small screen. Supernatural shows like Fox's Sleepy Hollow and NBC's own Grimm are doing well for themselves, and legal dramas are a staple of primetime TV. Really, it's just surprising more people haven't already had the idea to combine the two genres.