Exclusive: US Teaser For Studio Ghibli's 'The Tale Of The Princess Kaguya'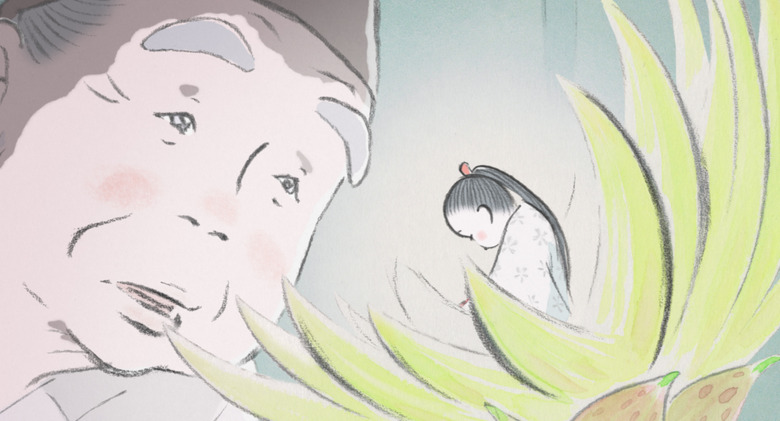 Studio Ghibli's next release in the US is The Tale of the Princess Kaguya, and we're happy to present the first US teaser for the film. Directed by Grave of the Fireflies director Isao Takahata, the movie explores the folk tale of a young princess who is found as an infant by a bamboo cutter, and tells of the fate that befalls her. The English-language version of the film is to be released by Gkids in October, with James Caan, Mary Steenburgen, and Chloë Grace Moretz voicing the lead roles. There's no dialogue in this first trailer, but you will get to see some of the unique and lovely visual style employed for the tale. See The Tale of the Princess Kaguya US teaser debut below.
The Tale of the Princess Kaguya will be in theaters beginning October 17.
Legendary Studio Ghibli cofounder Isao Takahata (Grave of the Fireflies, Pom Poko) revisits Japan's most famous folktale in this gorgeous, hand-drawn masterwork, decades in the making. Found inside a shining stalk of bamboo by an old bamboo cutter (James Caan) and his wife (Mary Steenburgen), a tiny girl grows rapidly into an exquisite young lady (Chloë Grace Moretz). The mysterious young princess enthralls all who encounter her – but ultimately she must confront her fate, the punishment for her crime.
From the studio that brought you Spirited Away, My Neighbor Totoro, and The Wind Rises comes a powerful and sweeping epic that redefines the limits of animated storytelling and marks a triumphant highpoint within an extraordinary career in filmmaking for director Isao Takahata.