'The Equalizer' TV Spot Teases Eminem's New Song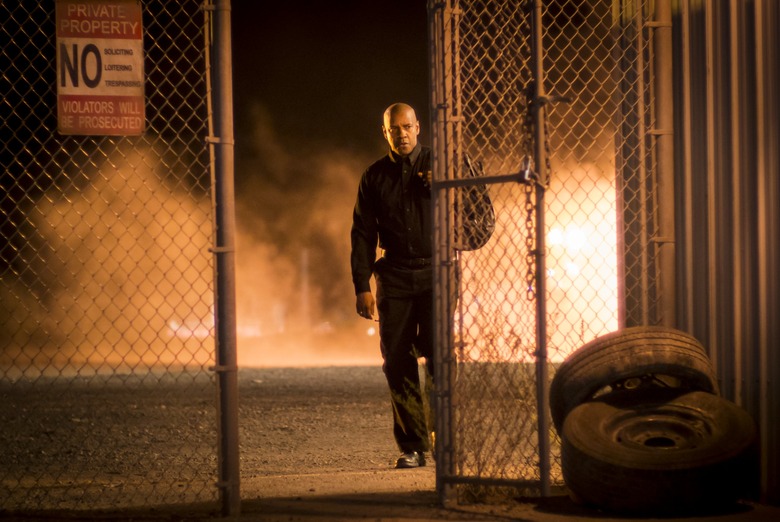 There are plenty of reasons to look forward to Antoine Fuqua's The Equalizer, and now here's one more. The latest Equalizer TV spot doesn't just tease the film, it also offers a taste of the new Eminem track that'll debut with it. Titled "Guts Over Fear," the song combines Eminem's snappy rhymes with lush backing vocals by Sia.
As for the movie itself, Denzel Washington leads as a man trying to atone for his dark past by helping those in need — like a young girl played by Chloë Grace Moretz. Hit the jump to watch the Equalizer TV spot.
There's some new footage mixed in here, but most of the exciting bits are ones we've already seen. And Washington is very much the focus here — there's very little of Moretz, unlike in the last trailer.
All in all, The Equalizer should be a treat for anyone who simply enjoys watching Washington fuck shit up. Which, judging by the box office figures for some of his other films, is a lot of people.
The Equalizer opens September 26. Melissa Leo, Martin Csokas, and Bill Pullman also star.
In The Equalizer, Denzel Washington plays McCall, a man who believes he has put his mysterious past behind him and dedicated himself to beginning a new, quiet life. But when McCall meets Teri (Chloë Grace Moretz), a young girl under the control of ultra-violent Russian gangsters, he can't stand idly by — he has to help her. Armed with hidden skills that allow him to serve vengeance against anyone who would brutalize the helpless, McCall comes out of his self-imposed retirement and finds his desire for justice reawakened. If someone has a problem, if the odds are stacked against them, if they have nowhere else to turn, McCall will help. He is The Equalizer.