Exclusive 'Sin City: A Dame To Kill For' 3D Featurette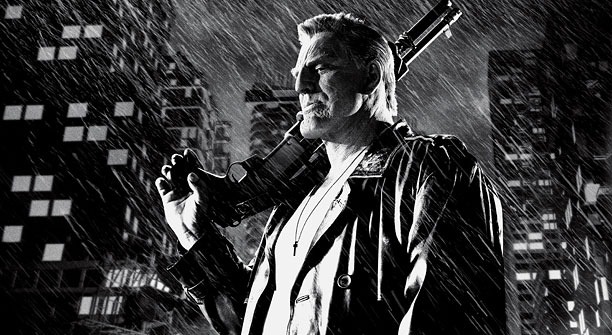 The reasons to see Frank Miller's Sin City: A Dame to Kill For are numerous. The incredible cast for one, which includes Jessica Alba, Powers Boothe, Josh Brolin, Rosario Dawson, Joseph Gordon-Levitt, Eva Green, Dennis Haysbert, Stacy Keach, Jaime King, Ray Liotta, Jeremy Piven, Mickey Rourke and Bruce Willis. The filmmakers are another, the iconic storyteller Frank Miller and maverick Robert Rodriguez. There's the pulpy, exciting source material. And now, we even get a Quentin Tarantino trailer to boot.
But to truly experience a film like this, one that was probably more than half made in the computer, you almost have to see it in 3D. It was specifically crafted that way. In a new featurette, exclusively debuting on /Film, you can listen to the filmmakers and stars talk about the 3D in Sin City: A Dame to Kill For. Watch the Sin City 2 3D featurette below.
The Frank Miller's Sin City: A Dame to Kill For 3D featurette is presented by RealD.
Sin City 2 3D video
Love these movies or hate them, it's hard to deny the visuals are stunning. Not only the colors, but the way Miller and Rodriguez move the camera around and really try and make the viewer feel like they're reading a comic book. That said, it seems like they've spent a lot of time and effort perfecting the 3D.
Frank Miller's Sin City: A Dame to Kill For opens everywhere Friday August 22. Here's the official plot synopsis:
Co-directors Robert Rodriguez and Frank Miller reunite to bring Miller's visually stunning "Sin City" graphic novels back to the screen in SIN CITY: A DAME TO KILL FOR. Weaving together two of Miller's classic stories with new tales, the town's most hard boiled citizens cross paths with some of its more notorious inhabitants. SIN CITY: A DAME TO KILL FOR is the follow up to Rodriguez and Miller's 2005 groundbreaking film, FRANK MILLER'S SIN CITY.