'Merry Friggin' Christmas' Clips Tease One Of Robin Williams' Last Performances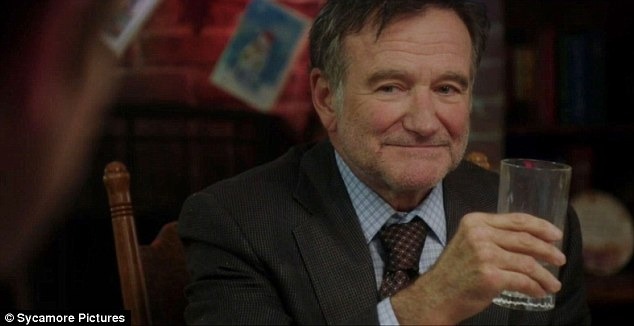 Even after his passing, Robin Williams is managing to bring a little levity into our lives. Two clips have just been released for his indie comedy Merry Friggin' Christmas, the first of four unreleased films he left behind.
Joel McHale and Lauren Graham also star in the indie comedy. Watch the Merry Friggin' Christmas clips after the jump.
Upon arrival, however, Boyd realizes he's accidentally left all of his son's gifts back home. So he and his dad strike out on an eight-hour round-trip journey to retrieve them in time for Christmas morning.
In the first of two Merry Friggin' Christmas clips, unveiled by Entertainment Tonight, Williams and Pierce Gagnon (Looper) find some refreshments for Santa.
The other hints at why McHale and Williams may not be on the best of terms.
The scenes are kind of predictable (there was never any doubt that Mitch was gonna suggest booze for Santa, right?), but they're warm and cute. Besides, it's just a treat to see Williams perform, right when we miss him most.
Merry Friggin' Christmas is the feature film debut of director Tristam Shapeero, a TV vet whose credits include episodes of Childrens Hospital, Community, Parks and Recreation, and Peep Show.
The rest of the very solid cast includes Wendi McLendon-Covey, Oliver Platt, Candice Bergen, Clark Duke, and Ryan Lee (Trophy Wife). Merry Friggin' Christmas lands November 7.
Beyond Merry Friggin' Christmas, Williams' other upcoming films include Night at the Museum: Secret of the Tomb, scheduled for December 19; Absolutely Anything, due out next year; and Boulevard, which debuted at Tribeca earlier this year but has not yet set a theatrical release date.