Latest 'Texas Chainsaw Massacre' Franchise Reboot Will Get A New Prequel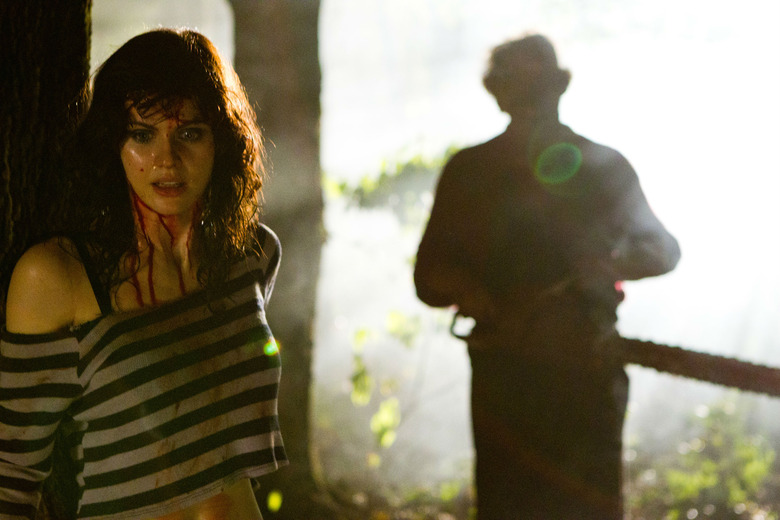 The horror started in 1974 with Tobe Hooper's The Texas Chainsaw Massacre. A few sequels later, that franchise faded, and in 2003 Platinum Dunes picked it up. They made two films, but the screams faded once more. In 2013 the franchise was resurrected one more time with Texas Chainsaw 3D. The film was a financial and critical disappointment, but producer Carl Mazzocone has the rights to make up to six films and he's going to try another. A writer has just been hired to pen a Texas Chainsaw prequel called Leatherface.
The Wrap broke the news of the Texas Chainsaw prequel writer. It's being written by Seth M. Sherwood, who has a few scripts in various stages of development including one at Blumhouse with director Greg Plotkin attached. (And, yes, there's already been a film in the original series with basically the same title: 1990's Leatherface: Texas Chainsaw Massacre III.)
For those who luckily didn't see Texas Chainsaw 3D, it was a direct sequel to the Hooper original. That film took place in the Seventies and this new one started immediately after the events of the first film. Leatherface and his family were killed by the townsfolk and the film fast forwarded several decades to the present. There a young girl (True Detective's Alexandra Daddario) found out she had inherited that land. Turns out, she's Leatherface's cousin and he's not dead. When she and her friends go to visit, all hell breaks loose.
This new film, Leatherface, would be a prequel to that, reportedly set in the Seventies. But isn't that basically another remake of the original Texas Chainsaw Massacre? If not, then a prequel could hypothetically show the character as a younger child or teen and what drove him to become this symbol of horror. That's unconfirmed, though, as all official plot details are being kept under wraps. The hope is for shooting to begin by the end of the year.
As bad as Texas Chainsaw 3D was, what really hurt it the most was the filmmakers didn't understand the Leatherface character. In the 1974 original, he was the quiet, deadly personification of terror. He didn't need a backstory, he was just frightening. The 2013 film started with him like that, but eventually made him not only sympathtic, but a hero. It went against everything Leatherface was. He's not a good guy.
That simple lack of understanding makes me believe this movie could actually be an origin story. If it is, it would once again give the audience reasons to sympathize with the character, there by taking away anything that makes him scary. (Who is scarier, the man who kills for no good reason, or the man who kills because his parents beat and tortured him, and we've seen him scream and cry?) Hopefully, the filmmakers and Sherwood in particular figure out a way to remove any sympathy from Leatherface and just make him scary.
Do you want to see a Texas Chainsaw Massacre prequel?