VOTD: The Art Of Steadicam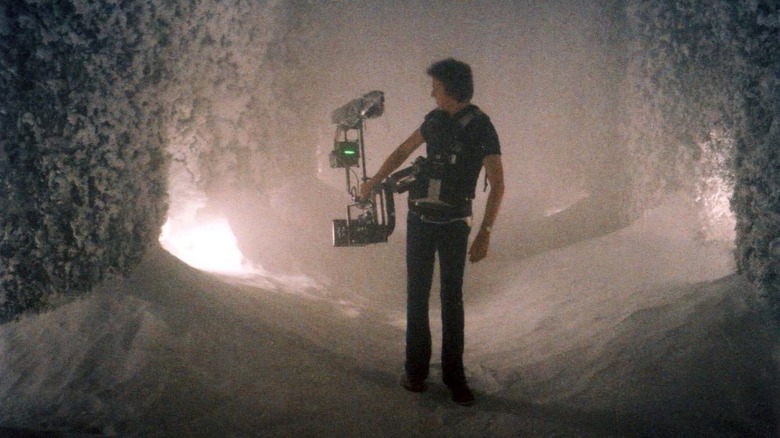 Garrett Brown operating Steadicam on Stanley Kubrick's The ShiningRefocused Media compiled a video celebrating the great Steadicam tracking (or Steadicam on a crane) shots of classic movies. The supercut features almost 40 films (from Stanley Kubrick to Paul Thomas Anderson) and a couple tracking shots from television (yes, The West Wing). Larry Wright explains The Art of Steadicam video edit:
These sequences are accomplished using a Steadicam, which is essentially a balanced stabilizer that allows for smoother and more easily controlled handheld camera operation. Invented by Garrett Brown in the early 70?s, the steadicam shot — or 'steadishot' — has become one of the most dynamic and exciting forms of cinematography and is one of the most engaging visual techniques in a filmmaker's storytelling arsenal. I was inspired to make this homage to the art of steadicam cinematography when browsing the database of "top" clips over at steadishots.org, which are rated by the community. After locating what sources I could from the top 50 or so, I decided to stick with the order presented on the site (accurate as of March 1, 2013).
Watch The Art Of Steadicam video embedded after the jump.
The Art Of Steadicam
Music tracks (in order):
Alt-J – Tessellate
The Black Keys – Little Black Submarine
Apparat – Ash/Black Veil
List of clips (in order of post-intro appearance):
Kill Bill Vol. 1
Atonement
Eyes Wide Shut
Artificial Intelligence: AI
ER: Season 4, Ep. 20
The X-Files: Season 6, Ep. 03
Raising Cain
Pride & Prejudice
Boogie Nights
Doom
Point Break
Pulp Fiction
Werckmeister Harmonies
Outpost 11
After Hours
Much Ado About Nothing
Marathon Man
Carlito's Way
Goodfellas
Rocky
Michael Clayton
The Peacemaker
The West Wing: Season 1, Ep. 04
The Birdcage
Flightplan
Donnie Darko
Good Night and Good Luck
The Doors
Before Sunset
The Shining
Thank You For Smoking
The West Wing: Season 1, Ep. 10
The Protector
Two Days in the Valley
Pride & Prejudice
The Mighty Quinn
Serenity
Eyes Wide Shut
Fight Club
Full Metal Jacket
Full Metal Jacket
Malcolm X
The Shining
The Shining