Brad Pitt War Drama 'Fury' Moves Up To October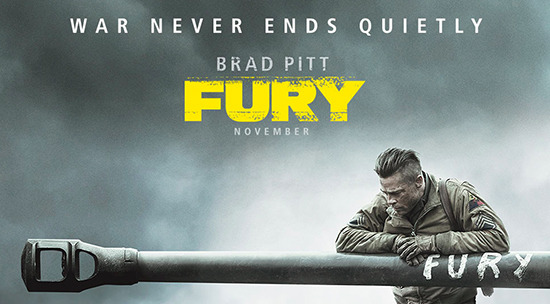 The November date in the poster above, for David Ayer's WWII tank squadron film Fury has been changed. But the good news is that the film's date change isn't a delay. Rather than opening the movie in November, Sony will now release Fury, which stars Brad Pitt, in October.
The original release date for the film was November 14, but Fury will now open just shy of a month earlier, on October 17. The move puts the film squarely in competition with the limited opening of Alejandro González Iñárritu's Birdman, and has it opening against the animated film The Book of Life, Nightcrawler with Jake Gyllenhaal, and the Nicholas Sparks film The Best of Me.But the date change also puts Fury into the same opening zone as some films that have gone on to have a huge presence during awards season, such as Argo, The Departed, Gravity, and 12 Years a Slave. The October opening gives Sony a chance to build a longer awards campaign for the film.
(Fury's original date would have pitted it against Dumb and Dumber To, Beyond the Lights and the first release of Bennett Miller's Foxcatcher.) 
Set in April 1945, as the Allies make their final push in the European Theatre, Fury features a battle-hardened army sergeant named Wardaddy (Brad Pitt) commands a Sherman tank and her five-man crew on a deadly mission behind enemy lines. Outnumbered and outgunned, and with a rookie soldier thrust into their platoon, Wardaddy and his men face overwhelming odds in their heroic attempts to strike at the heart of Nazi Germany.