Robin Williams Left Four Unreleased Movies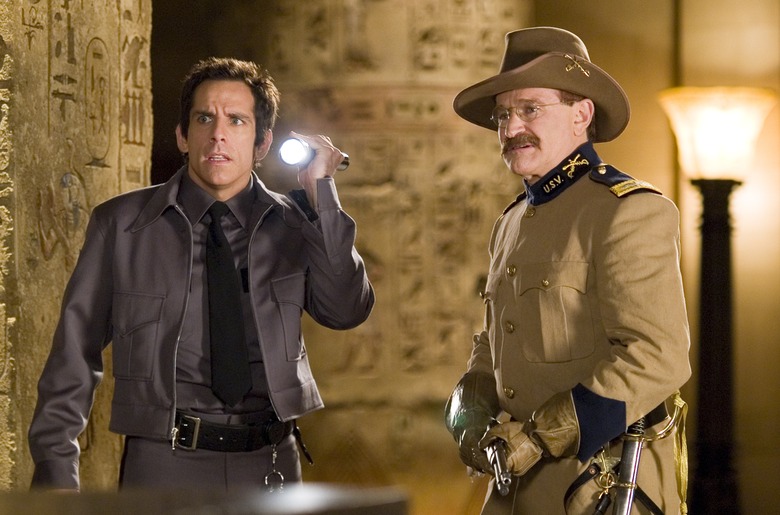 Though Robin Williams passed away this week, we'll continue watching him onscreen for months to come. His death came in the midst of a busy time in his career, with some four films still awaiting release including Night at the Museum: Secret of the Tomb.
In addition, he'd been developing a sequel to Mrs. Doutbtfire that will likely be cancelled now that Williams is gone. Hit the jump for all the details on Williams' unreleased projects.
He'll next appear in Merry Friggin' Christmas, an indie comedy set for November 7. Williams and Joel McHale play a father and son who hit the road to retrieve some forgotten gifts in time for the holidays. Wendi McLendon-Covey, Lauren Graham, and Oliver Platt also star.
His other holiday release is Night at the Museum: Secret of the Tomb, which wrapped in May and opens December 19. Williams reprises his role as Teddy Roosevelt, from the two previous Night at the Museum movies.
And coming up next year for Williams is Absolutely Anything, a mostly live-action comedy in which Williams voices the animated character of Dennis the Dog. Kate Beckinsale and Simon Pegg lead the non-animated cast.
Finally, Williams also has the Dito Montiel drama Boulevard, in which he plays a married man who picks up a gay hustler. That one premiered at Tribeca earlier this year but has yet to secure a theatrical distributor. Bob Odenkirk co-stars.
Beyond that, Williams was also making plans with Fox and director Christopher Columbus for a Mrs. Doubtfire 2. Williams was attached to star and had gotten as far as meeting with screenwriter David Berenbaum, who has been working on a second draft.
Although no official decision has been made on Mrs. Doubtfire 2,
the developing sequel is unlikely to move forward without Williams. While it's not unheard of for studios to recast major roles for reboots, it's rather tough to imagine anyone but Williams in the classic role.