See First 'Better Call Saul' Footage; Series Premieres February 2015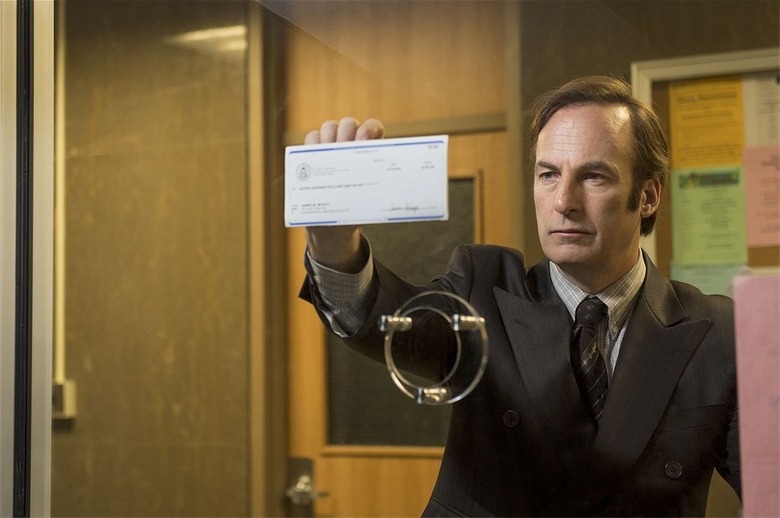 AMC recently premiered the first Better Call Saul footage, and the clip from the Breaking Bad spin-off is now online. It's not much — ten seconds of Saul (Bob Odenkirk) talking about the value of having a lawyer. But we know much of the show takes place six years before Breaking Bad, and this seems like a Saul who is younger and not quite as shark-like as he is by the time Walt and Jesse walk into his office years later. In fact, the character probably isn't even called Saul at this point. He's most likely going by the name James M. McGill. He once told Walt that's his real name, but who knows with Saul? Presumably the show will fill in many more details.
Better Call Saul premieres in February 2015. Watch the footage below.
Better Call Saul also features Michael McKean as Saul's brother Chuck, Rhea Seehorn as Kim, Patrick Fabian as Hamlin and Michael Mando as Nacho. Vince Gilligan and Peter Gould created the show. More details on the backstory are here.
Here's how AMC describes the plot:
The series is set six years before Saul Goodman meets Walter White. When we meet him, the man who will become Saul Goodman is known as Jimmy McGill, a small-time lawyer searching for his destiny, and, more immediately, hustling to make ends meet. Working alongside, and, often, against Jimmy, is "fixer" Mike Ehrmantraut, a beloved character introduced in 'Breaking Bad.' The series will track Jimmy's transformation into Saul Goodman, the man who puts "criminal" in "Criminal lawyer." The series' tone is dramatic, woven with dark humor.