'Pride' Trailer: Miners And LGBT Activists Unite In Cannes Crowdpleaser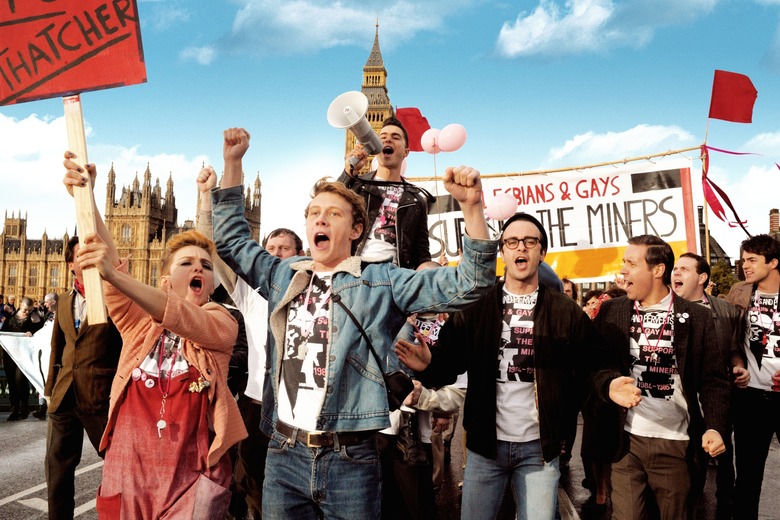 The Cannes Film Festival is never short on buzzy works by high-profile directors and A-list stars. But one of the biggest crowdpleasers this year wound up being a film that had mostly flown under the radar until its premiere.
Directed by Matthew Warchus, Pride tells centers on an unexpected alliance that develops between LGBT activists and striking miners in 1980s Britain. What makes the story even more touching is that it's true. Hit the jump to watch the first Pride trailer.
In retrospect, it's no surprise this film took off. Pride has a solid cast including Paddy Considine, Andrew Scott, Imelda Staunton, Bill Nighy, and Dominic West, as well as rising stars George MacKay and Ben Schnetzer. More importantly, it's got the same combination of grit and uplift that made The Full Monty and Billy Elliot click with audiences around the world.
Films that aim to inspire often make the mistake of laying on the sentiment too thick, but by all accounts Pride earns its emotions. Variety credits the actors for "root[ing] all the characters in relatable reality," while The Playlist compliments Warchus for "not sugarcoating the real events." There's nothing wrong with sticking to a formula if you execute it really, really well.
CBS Films has Pride scheduled to open September 19.
PRIDE is inspired by an extraordinary true story. It's the summer of 1984, Margaret Thatcher is in power and the National Union of Mineworkers is on strike, prompting a London-based group of gay and lesbian activists to raise money to support the strikers' families. Initially rebuffed by the Union, the group identifies a tiny mining village in Wales and sets off to make their donation in person. As the strike drags on, the two groups discover that standing together makes for the strongest union of all.