Daisy Ridley Reportedly Returning For 'Star Wars Episode VIII' And 'IX'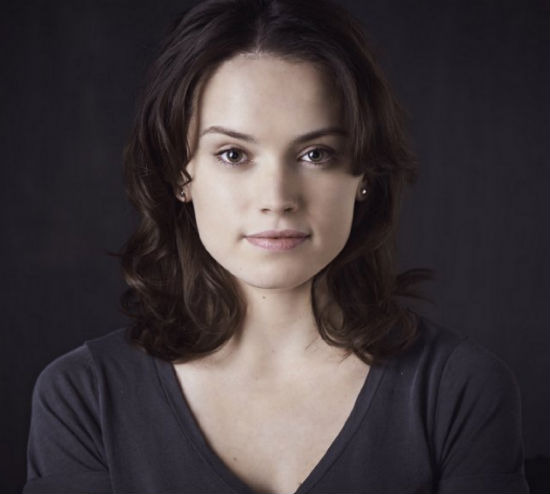 Thursday, news broke that actress Daisy Ridley had signed with a new agency. This in itself isn't that exciting. While 99% of the world doesn't know who the actress is (she only has like 7,000 followers on Twitter), next year that'll change. She's one of the leads in J.J. Abrams' Star Wars Episode VII. Rumors and speculation have run rampant over which character the actress is playing but, buried in the agency story, was a bit of a hint. Her signing with the new agency is because she's expected to return for Rian Johnson's Star Wars Episode VIII and Star Wars Episode IX. Read more about Daisy Ridley Star Wars below.
The Daisy Ridley Star Wars news came from Deadline, which said the following:
She is the female lead in the J.J Abrams-directed resuscitation of Star Wars, and the plan is for her carry through to the second and third films that will be directed by Looper helmer Rian Johnson.
Of note here, Deadline broke the news of Rian Johnson writing and directing Episode VIII and, at first, said he was doing the same for Episode IX. Every single other source on the net amended that, saying it wasn't set in stone Johnson was directing IX. They still stand by it but Lucasfilm hasn't confirmed any of this. (Johnson, though, has.)
As for Ridley, there really wasn't much of a question she was going to be a bigger part of the trilogy. Unlike some of the other actresses who were cast after her (Lupita Nyong'o, Gwendoline Christie, etc.), Ridley's role was important enough to be at the first table read. She was seated between Han Solo (Harrison Ford) and Princess Leia (Carrie Fisher) leading to speculation she was a child of the two. Since then, speculation has moved away from that but really, we don't know for sure. What we do know is she's a very important character, has lots and lots of scenes with John Boyega and will most likely be in the rest of the series. She was also recently rumored to share an outdoor scene with Mark Hamill.
Plus, while the actress will certainly be a big star even if she didn't make it through Star Wars Episode VII, the fact she's potentially locked into two of the biggest sequels ever is a huge bonus to her team. The move to a bigger agency, then, definitely makes sense and backs up the claims.
Who do you think Ridley is playing?