'Miss Julie' Trailer: Jessica Chastain And Colin Farrell's Toxic Romance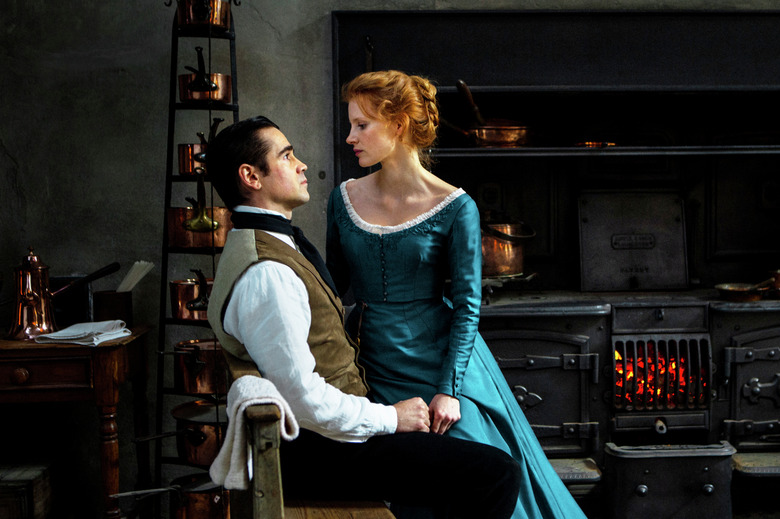 It really is impressive how versatile Jessica Chastain is. As her Oscar nominations will attest, she's equally convincing as a bubbly Southern misfit as she is a hardened CIA agent. Now she looks poised to knock our socks off again in the new Miss Julie trailer.
Chastain plays the title character, an upper-class woman with a self-destructive streak. She falls into a toxic affair with her father's valet, the ambitious John (Colin Farrell). Caught in the crossfire are bystanders like Christine (Samantha Morton), John's fiancee. Watch the Miss Julie trailer after the jump.
[via Vlicious]
While it's not Fifty Shades of Grey, the Miss Julie trailer looks hot in its own way. The actors' chemistry is apparent even in this brief preview, and the slanted sexual dynamic adds just a touch of kinkiness. Maybe the loud declarations of anger and passion are a bit over the top, but Farrell, Chastain, and Morton are good enough to sell it.
Miss Julie premieres at TIFF next month. No U.S. release date has been set.
Taking place at a large country estate in Britain over the course of one 1880s midsummer night, Miss Julie explores the brutal, flirtatious power struggle between Julie and John – a young aristocratic woman and her father's valet.
She is all hauteur longing for abasement; he, polished but coarse. The two of them held together by mutual loathing and attraction. At turns seductive and tender, savage and bullying, their story builds inevitably to a mad, impulsive tryst. Plans are made in desperation, a vision of a life together – unsure if the morning light then brings hope or hopelessness, Julie and John find their escape in an act that is as sublime and horrific as anything in Greek tragedy.
Liv Ullman's Miss Julie will skillfully weave this great original story of the battle between the sexes and the classes.