Terry Gilliam Says 'Don Quixote' Is Now About "How Movies Can Damage People"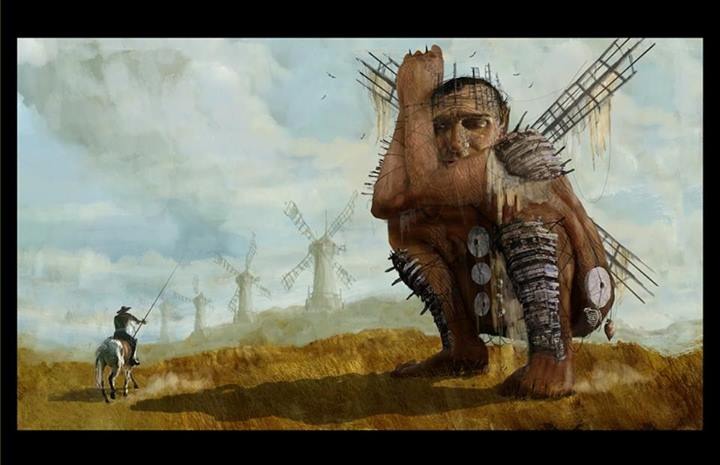 If anyone knows how movies can damage people, it's Terry Gilliam. The director has battled over many a film in his time. He fought Universal brass over Brazil, and Columbia over The Adventures of Baron Munchausen. Most catastrophically, he battled weather, disaster, and illness during the original shoot of The Man Who Killed Don Quixote. Gilliam lost that fight, but he has been trying to make new versions of the film for several years.
Every time Don Quixote comes up for Gilliam, it changes a bit. He and screenwriter Tony Grisoni have constantly revised the movie. What was once the story of an ad man traveling into the past is now a film set entirely in the present day. Gilliam says he has financing and plans to shoot the movie after Christmas this year. He also says the movie is "more about how movies can damage people."
Gilliam talked to The Wrap, explaining,
I keep incorporating my own life into it and shifting it. The basic underlying premise of that the version Johnny was involved in was that he actually was going to be transported back to the 17th century, and now it all takes place now, it's contemporary. It's more about how movies can damage people.
He went on to say,
Our main character actually made a Don Quixote movie a lot earlier in his history, and the effect it had on many people wasn't very nice. Some people go mad, some people turn to drink, some people become whores.
We don't know who'll be in the movie at this point. Johnny Depp and Jean Rochefort were in the original cast, while Robert Duvall and Ewan McGregor were attached more recently. Gilliam tells the site that he's simply planning the movie once again as if it is all going to go forward as planned. If we've learned anything over the years, it's that this film resists plans in every way possible, but I love Gilliam's continued passion for the concept, and that he's willing to let it evolve.
Terry Gilliam Don Quixote