'The Green Inferno' Release Delayed Indefinitely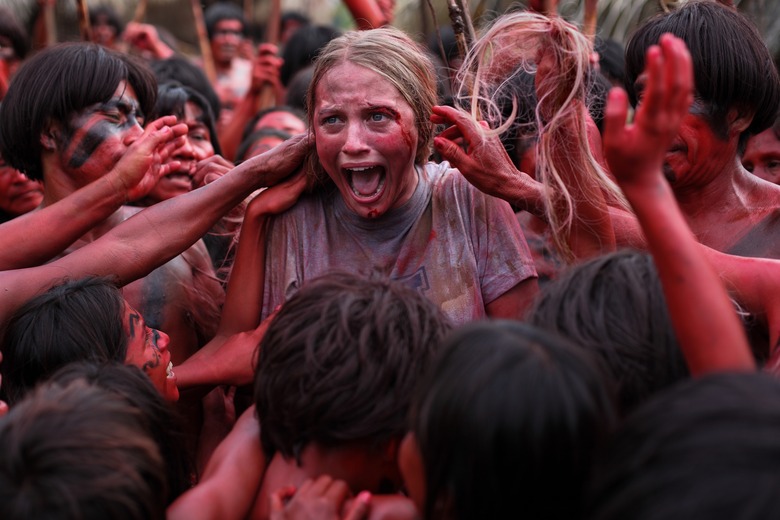 There's trouble ahead for Eli Roth's The Green Inferno. The film has been set for a September release, but Open Road has just taken the movie off its release calendar. But this isn't the result of controversy or a problem with the film. No, this is the result of a business problem between the company that financed the movie, Worldview Entertainment, and the guy who used to lead Worldview. Roth's movie is, like many of the characters in the film, just a victim of a bad situation. 
Deadline reports that Worldview Entertainment "is balking at ex-CEO Christopher Woodrow's commitment to provide the P&A." Which is to say, Worldview, rather than distributor Open Road, is committed to paying some of the big costs associated with theatrical distribution. 
Will the film be rescheduled after all this is worked out, or will it just end up going to direct to disc as a result of the conflict? We don't know at this point, and there's no indication from either Open Road or Worldview. This problem now is the result of the restructuring going on at Worldview after Woodroow left the company with little warning in June.
In the wake of Woodrow's unexplained split from Wolrdview, the company's new management has been putting a halt to spending based on deals made by the departed exec, and  looking into all the deals made under his regime. There's a chance we'll hear of other problems. Deadline reports, for instance, that Hoyt David Morgan is suing Worldview, claiming he put $3.7m into the company in exchange for an exec producer credit on Birdman, which he did not receive. That is unlikely to affect the release of Birdman, which is heartening.
We'll report on any release information that comes up for The Green Inferno.