Ricky Gervais Plans 'The Office' Spin-Off Movie 'Life On The Road'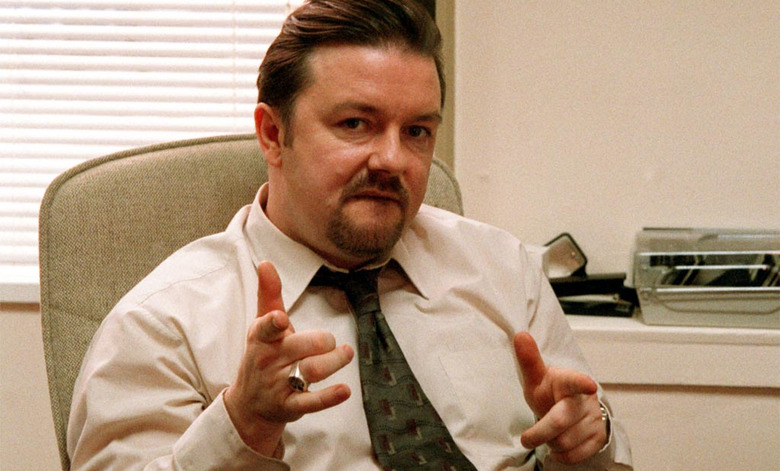 David Brent hasn't made it as a rock star quite yet, but he is about to become a movie star. BBC Films has announced a feature film spin-off of The Office titled Life on the Road, with Ricky Gervais set to reprise his role as the former Wernham Hogg manager.
Hit the jump for more details on The Office spin-off movie. 
Life on the Road will reveal exactly what Brent has been up to in the 15 years since he left paper company Wernham Hogg. Of course, if you've been following along with his YouTube series Learn Guitar With David Brent, you probably already know he's been chasing his rock star dreams.
Until he hits it big, though, he remains stuck in a boring day job as a traveling sales rep for a cleaning products company.
As for Gervais himself, he's done just fine for himself since The Office ended its run in 2003. He currently has a Netflix series called Derek, and was last seen playing the villain in The Muppets Most Wanted.
The Office spin-off movie news doesn't come completely out of the blue. Last year, Gervais told press he wanted to make "a movie about Brent trying to make it in the music industry."
Like the original The Office series, Life on the Road will be presented in a mockumentary format. The press release describes the plot as follows:
He thinks it'll be like Scorsese filming the Rolling Stones, but it turns out to be a 'where are they now' documentary. He has to take a few weeks off work and cash in a couple of pensions, because the session musicians in the band are costing him more than he's getting in ticket sales. Tragic.
While Gervais is the only star confirmed at this point, the statement hints that some of Brent's old colleagues could also appear, including Gareth Keenan (Mackenzie Crook) and Tim Canterbury (Martin Freeman). Shooting is expected to begin next year in the U.K.