'The Theory Of Everything' Trailer: Eddie Redmayne Is A Young Stephen Hawking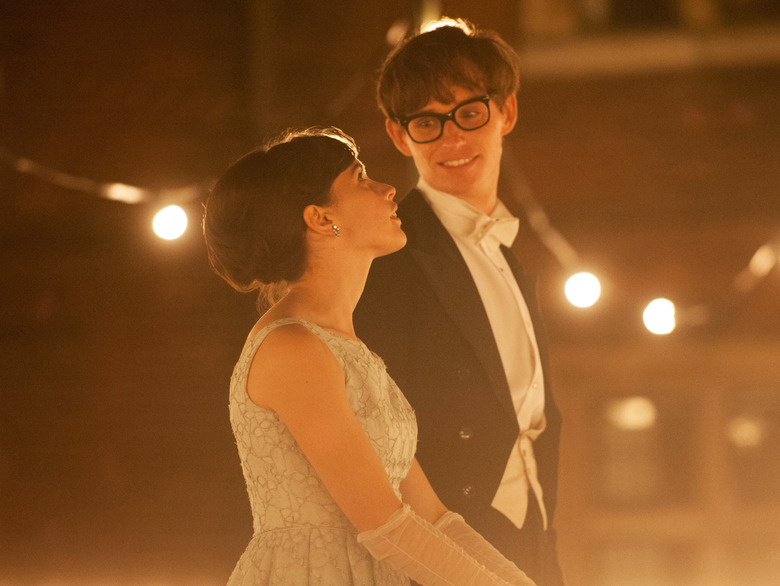 Here's the first The Theory of Everything trailer, in which Eddie Redmayne (Les Miserables, Jupiter Ascending) plays a young Stephen Hawking. The film catches Hawking in the years before motor neuron disease ravaged his body, when his theories about space and time first began to coalesce, and when he fell for the woman (Felicity Jones) who became his first wife. Much of this story has been told in the Errol Morris-made doc A Brief History of Time, but now you can see James Marsh (Man on Wire) dramatize it for awards season.  
Some of this trailer seems to sell a pretty typical biopic. But the team of James Marsh and these two leads inspires a lot of confidence, and it is almost impossible to fail to be moved by Hawking's story. The love celebrated here, however, wasn't as eternal as the trailer would like us to think, and it's that selective vision that makes it feel perhaps too optimistic. Because the film is based on Jane Hawking's memoir, I'm curious to see how far the film really goes.
The Theory of Everything opens on November 7. Trailer via Apple.
Starring Eddie Redmayne ("Les Misérables") and Felicity Jones ("The Amazing Spider-Man 2"), this is the extraordinary story of one of the world's greatest living minds, the renowned astrophysicist Stephen Hawking, who falls deeply in love with fellow Cambridge student Jane Wilde. Once a healthy, active young man, Hawking received an earth-shattering diagnosis at 21 years of age. With Jane fighting tirelessly by his side, Stephen embarks on his most ambitious scientific work, studying the very thing he now has precious little of – time. Together, they defy impossible odds, breaking new ground in medicine and science, and achieving more than they could ever have dreamed. The film is based on the memoir Travelling to Infinity: My Life with Stephen, by Jane Hawking, and is directed by Academy Award winner James Marsh ("Man on Wire").