Sylvester Stallone Wants Sigourney Weaver For 'The Expendabelles'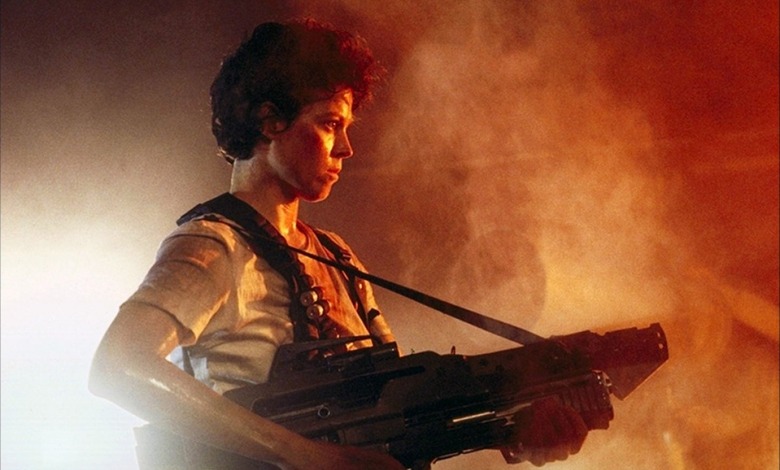 Long before there was talk of a lady-centric Ghostbusters reboot or Spider-Man spinoff, Sylvester Stallone was plotting his distaff take on The Expendables. And while no cast members have officially been announced for The Expendabelles as of yet, Stallone does have his eye on one particularly famous female badass.
At the premiere of The Expendables 3, Stallone revealed his hopes of getting Sigourney Weaver on board for The Expendabelles — possibly as his wife. Find out more about the Sigourney Weaver Expendabelles possibilities after the jump, along with potential plot details.
At the moment, though, Stallone is still working some things out. "With The Expendabelles we've got a situation where we're in unchartered waters," he said. "Do we put all women actresses together, would that really work? Or do we have some women who are actually really known to be tough fighters?"
Either way, he'll have to make some big decisions soon. Producer Avi Lerner, who's also worked on all three Expendables movies, indicated that production could begin as soon as early 2015. "We are writing the final lines of the script, we've got lots of ideas about who is going to be in it," he said.
Unlike most of the actors who comprise the Expendables, Weaver isn't mainly known as an action hero. Still, she's more than proven her chops in films like Avatar and the Alien series. Lord knows whether Expendabelles is a project she's interested in, but it could be fun to see her kick ass again if she is.
For now, we can only guess at the lineup Stallone and Lerner have in store. Last year, Lerner was floating Meryl Streep as a potential lead, but nothing has come of that rumor. Zoe Bell, Cameron Diaz, and Milla Jovovich were also been reported as being in talks, which makes way more sense.
Here's the very silly-sounding plot synopsis that went around earlier this year.
When America's Navy SEALs are wiped out trying to penetrate the island lair of a deadly despot who has captured one of the world's top nuclear scientists, it becomes clear that there is no such thing as the right man for the job and that this is a mission so impossible that only women can handle it. The only way in: some of the world's deadliest female operatives must pose as high-class call-girls shipped in by private plane to satisfy a dictator–and instead save the scientist and the day.
No release date has been set for The Expendabelles.