Filmmakers And Actors Praise 'Guardians Of The Galaxy'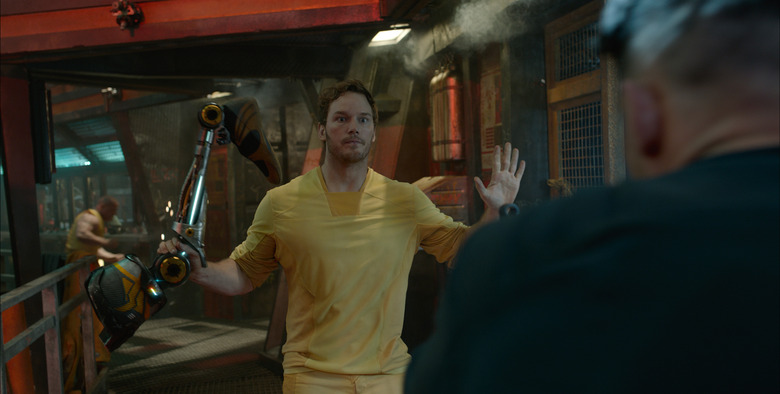 You love Guardians of the Galaxy, we love Guardians of the Galaxy, pretty much everyone loves Guardians of the Galaxy. After a massive, massive opening weekend to go along with stellar reviews (currently 93% fresh on Rotten Tomatoes), the Guardians of the Galaxy have officially become a piece of popular culture. How do you cement that? You get celebrities behind the film.
Dozens and dozens of comedians, directors and various other famous people took to Twitter over the weekend to praise James Gunn's film and you can check out a bunch of their wildly positive Guardians of the Galaxy celebrity tweets below.
First up, these are my two favorites, for reasons that are obvious if you've seen the movie:
Hey @JamesGunn Just out of #GuardiansOfTheGalaxy it's nothing short of #Super IMHO

— Kevin Bacon (@kevinbacon) August 2, 2014
And here are a few directors, both of Marvel movies and others:
Good luck to Mr @JamesGunn this weekend. Truly one of the good guys x

— edgarwright (@edgarwright) August 1, 2014
what a great job done on #gotg – huge world building. congrats to @marvel, @JamesGunn, and huge cast.

— darren aronofsky (@DarrenAronofsky) August 3, 2014
Buying my tix for #GuardiansOfTheGalaxy. This film is gonna rock! So psyched for my boo, @JamesGunn.

— Elizabeth Banks ❄️ (@ElizabethBanks) August 1, 2014
You know, @prattprattpratt, @zoesaldana and @JamesGunn can Guard my Galaxy anytime. So, so Good.

— Marc Webb (@MarcW) July 30, 2014
Brilliant work, @JamesGunn! That's a high bar, my friend. I'm officially not sleeping for a year.

— Peyton Reed (@MrPeytonReed) August 4, 2014
And here are a bunch of hilarious actors/actresses/famous personalities:
Hey, @JamesGunn, Guardians of the Galaxy was FUCKING FANTASTIC

— Andy Richter@actualandyrichter.bsky.social (@AndyRichter) August 2, 2014
Update: I now think a raccoon is hot

— Mindy Kaling (@mindykaling) August 4, 2014
Guardians of the Galaxy. Best Marvel movie yet RT @CENARULES4EVER: @RandyOrton ANY MOVIE YOU WATCHED RECENTLY THAT YOU WOULD RECOMMEND ?

— Randy Orton (@RandyOrton) August 4, 2014
Wow. Just got out of one of the most enjoyable 2 hours I've ever sat through. Thank you, #GuardiansOfTheGalaxy. Thank you indeed!

— Scott Porter (@ScottPorter) August 4, 2014
If there's one thing u do this weekend, help the poor. If there's two things–go see @prattprattpratt in @Guardians pic.twitter.com/dASofIe4Pa

— Joel McHale (@joelmchale) August 1, 2014
Who knew @JamesGunn was the basterd son of George Lucas and Tarantino!? Guardians of the Galaxy was EPIC. #GOTG #THICKE

— RainnWilson (@rainnwilson) August 3, 2014
Did you notice any others? Good, bad or indifferent? Tweet the links at me, @GermainLussier, and I'll add them to the list.