Watch The Evolution Of Marvel's Phase 1 And 2 From Comic Con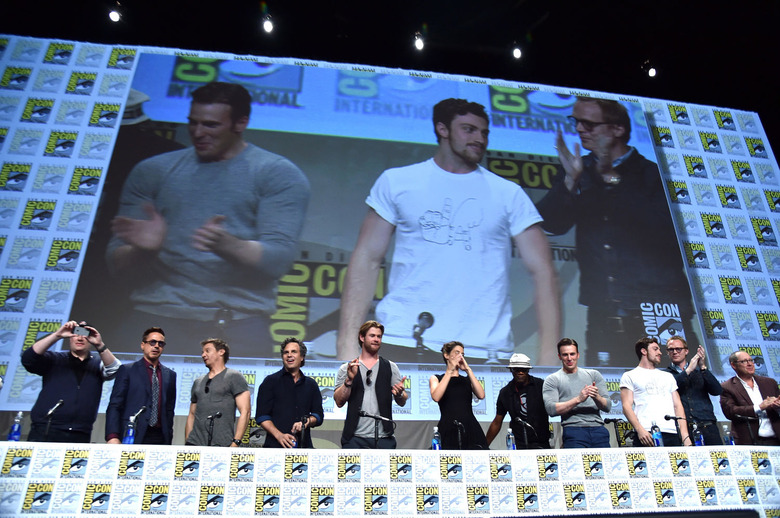 You may wonder why people sleep on concrete overnight at San Diego Comic-Con to see Marvel's Hall H panel every year. You can find a small answer below. Besides the awesome news and huge stars Marvel parades across the stage, the studio is all about theatrics. The lights go down, a video comes up, and 6,500 people have no idea what's about to play. In 2014, it was a retrospective sizzle reel to set up what's about to happen. Marvel played a five-plus minute retrospective to pump up the fans and pass the torch to this weekend's Marvel film, Guardians of the Galaxy.
We can't duplicate the electricity of 6,500 people clapping and cheering in unison, or the fatigue and stench that results from the long wait to get in to Hall H. But you can watch the Marvel Comic Con sizzle reel below.
Marvel Comic Con Hall H Sizzle Reel
Here's the official description:
Celebrate the expansion of the Marvel Cinematic Universe in "Guardians of the Galaxy," in theaters now, with an exclusive look back at the first two phases of the MCU previously shown at Hall H during San Diego Comic-Con!
So what happened after that video played? A lot. Panel moderator Chris Hardwick came out, introduced Marvel Studios president Kevin Feige, and then you can read about everything else in these links below. (You can even watch the full panels, save for the footage).
So yeah, it's pretty worth camping out over night to experience something like that. Next year should be particularly interesting based on whatever revelations happen in Avengers: Age of Ultron. What do you think of the video? [via YouTube]