James Gunn On What To Expect In 'Guardians Of The Galaxy 2'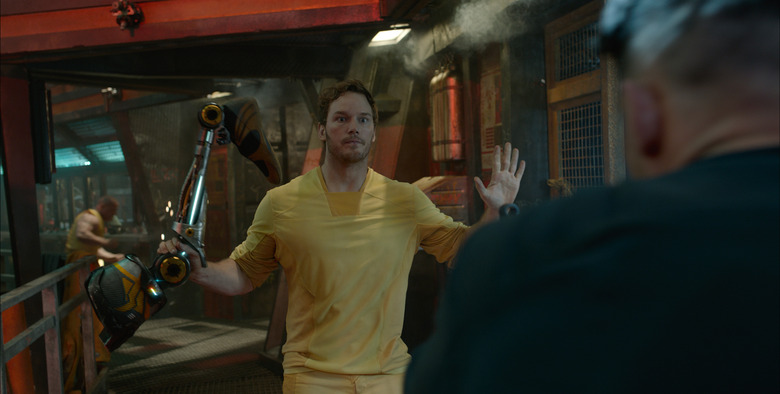 It's a little bit unusual that Guardians of the Galaxy 2 is not only in script development, but greenlit and dated before the first film even opens. It's rare that we see that pattern of announcement. Naturally, writer/director James Gunn is already thinking about the Guardians sequel — hell, he's probably thought a lot about it in the past few months.
The film won't be out for three years, but if you're ready to start your own process of thinking about what Guardians 2 might look like, some new comments from Gunn will give a few pointers. In one interview, the director talked about a few specific characters and relationships that will likely be explored. Get the Guardians of the Galaxy 2 story details below.
FilmDivider got a set of quotes from James Gunn about the Guardians sequel (warning: possible spoilers for the first film):
I know a lot of where I want to go. I have a lot of ideas for stories and characters that are going to appear, and there are documents written up, that some people have, about Peter Quill's father and his relationship, a lot of stuff about Yondu and a lot of stuff about Drax that nobody knows.
There are a lot of things that are part of the overall schematic that already exist, not to mention a lot of stuff about all of the cultures. There's a lot of stuff about Xandarian and Kree culture that I've written down or I have in my head, as well as Krylorians and Ravagers.
In addition, Gunn elaborated in another interview attended by the site:
Kevin Feige has stuff. I wrote up a lot. He knows all the stuff and if I died tomorrow they could go make a movie. They could write the story of Peter Quill's father and it would all be there. I think Yondu is a very important character, a really important character in this universe, and I think Nebula is really important too and so I think we'll see more of both of those characters.
Guardians of the Galaxy opens Friday Aug 1. Guardians of the Galaxy 2 opens July 28, 2017.