First Look: 'Girls' Star Allison Williams As Peter Pan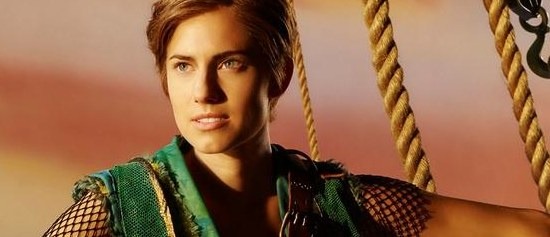 Update from Editor Peter Sciretta: NBC has released the first photo of Allison Williams as the title character in NBC's Peter Pan Live!, which will be airing this winter. Hit the jump to see the Allison Williams Peter Pan first look image now.
Allison Williams as Peter Pan in NBC's Peter Pan Live!
The photo premiered on the Today Show twitter account. Peter Pan Live! will air on HBC on December 4th 2014, exactly one year from the siring of the Carrie Underwood-led musical The Sound of Music Live!.
The original story by Angie Han from July 30th 2014 follows:
Remember that horrifically awkward scene in Girls where Marnie tries to live out her pop star fantasies by serenading her ex-boyfriend at a company party? Well, stretch that out to about two hours, replace Kanye West with Peter Pan, and you've got NBC's next live musical event.
Allison Williams has just been cast as the title character in NBC's Peter Pan Live!, airing this winter. She joins Christopher Walken, who plays Captain Hook.
NBC announced the casting today. In truth, while Marnie might've been a terrible pick for Peter Pan, Williams isn't. She's a pretty good singer — it was the context that made those Girls scenes uncomfortable, not her innate lack of talent — not to mention a solid actress, unlike last year's The Sound of Music Live! star Carrie Underwood.
Sure, Williams isn't as buzzy a choice as Kristen Bell (who was approached but couldn't fit the project into her schedule), but it should at least be fun to see her break out of the Marnie mold. Oh, and if you're confused by the apparently gender-bent casting, know that the role of Peter Pan in the musical has traditionally gone to a woman.
In a statement, Williams poked fun at the potential for disaster in her new gig.
I have wanted to play Peter Pan since I was about three years old, so this is a dream come true. It's such an honor to be a part of this adventure, and I'm very excited to get to work with this extraordinarily talented team. And besides, what could go wrong in a live televised production with simultaneous flying, sword fighting and singing?
If anything, Williams might be too qualified for Peter Pan Live! She might actually pull this thing off, and then what would we have to hate-tweet about? Watch her carry a tune in two videos below.