Disney's 'Into The Woods' Images Tease A Star-Studded Fairy Tale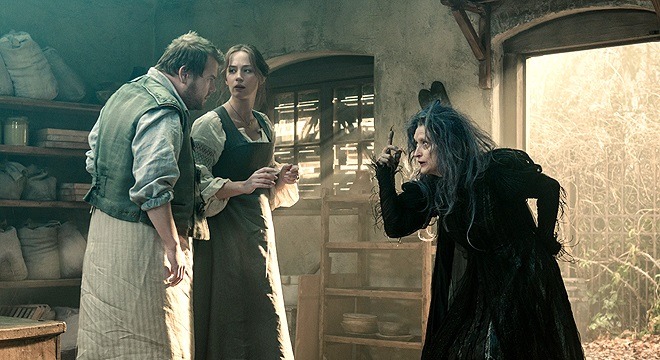 We've seen plenty of live-action fairy tales hit the big screen in recent years, but most of those movies are content to include tell just one story. Rob Marshall's upcoming musical Into the Woods mashes them all together.
The first Into the Woods images show James Corden and Emily Blunt as a baker and his wife who want to start a family. But in order to do so, they must first confront the witch (Meryl Streep) who put a curse on them.
Along the way, they come across a whole bunch of other familiar characters including Cinderella (Anna Kendrick), her prince (Chris Pine), the Big Bad Wolf (Johnny Depp), and more. Check out the new Into the Woods images after the jump.
If nothing else, the opportunity to hear these actors sing should set Into the Woods apart from all those other live-action fairy tales. We already know some of these people (Kendrick) have great voices, but I'm quite curious to see whether Captain Kirk can carry a tune.
Into the Woods is based on the hit musical by James Lapine and Stephen Sondheim. In addition to all the iconic characters named above, Into the Woods also features Red Riding Hood (Lilla Crawford), Jack (Daniel Huttlestone), and Rapunzel (Mackenzie Mauzy).Lucy Punch, Christine Baranski, Billy Magnussen, Tammy Blanchard, Tracey Ullman, and Frances de la Tour fill out other assorted roles. Into the Woods opens December 25.
"Into the Woods" is a modern twist on the beloved Brothers Grimm fairy tales, intertwining the plots of a few choice stories and exploring the consequences of the characters' wishes and quests. This humorous and heartfelt musical follows the classic tales of Cinderella, Little Red Riding Hood, Jack and the Beanstalk, and Rapunzel—all tied together by an original story involving a baker and his wife, their wish to begin a family and their interaction with the witch who has put a curse on them.