Simon West Wants To Make A 'Con Air 2' Set In Space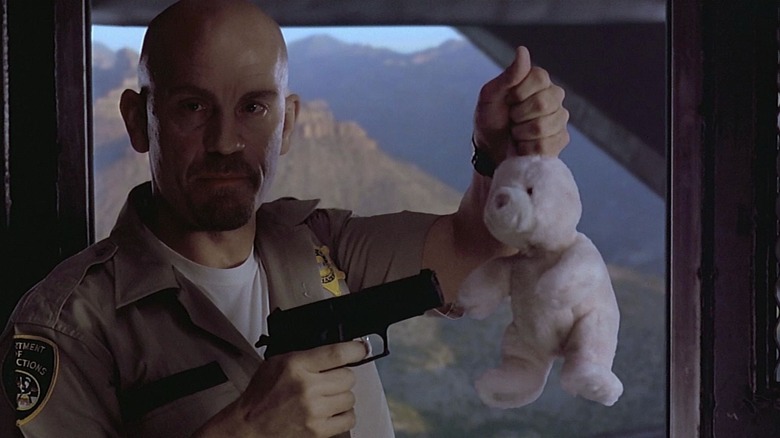 Con Air is a guilty pleasure of many film fans. The movie followed a former US Ranger/newly released ex-con (Nicholas Cage) who finds himself trapped on a prisoner transport plane as the passengers take control of the aircraft. The action film made $223 million worldwide when it was released in 1997, and who knows how much on home video and television airings (its on all the time). Now director Simon West reveals that he would like to make a Con Air 2 set in space.
Con Air director Simon West told ScreenDaily the following:
" There are always rumors about a Con Air 2. I would do it if it was completely turned on its head. Con Air in space, for example – a studio version where they're all robots or the convicts are reanimated as super-convicts, or where the good guys are bad guys and the bad guys are good guys. Something shocking. If it was clever writing it could work."
West's last few films have included The Expendables 2, The Mechanic, and Stolen, so I'm sure he'd love to do a bigger project like Con Air 2. But it doesn't quite sound like West has thought about this too much. I feel like if I was him I'd have a pitch ready just in case the studio asked. Although I'm don't think Disney is even interested in making another installment of Con Air.
I'm not sure if Con Air set in space makes sense as a sequel. The idea could be fun as a completely unrelated science fiction project — I could imagine Neill Blomkamp or directing a version of this. But I do like the idea of turning the idea on its head with the roles reversed somehow. If Nicolas Cage returns, count me in.
Now that you're in the mood, here is the trailer for the original 1997 film Con Air:
via: Collider