New 'The Maze Runner' Trailer Pits Dylan O'Brien Against An Impossible Puzzle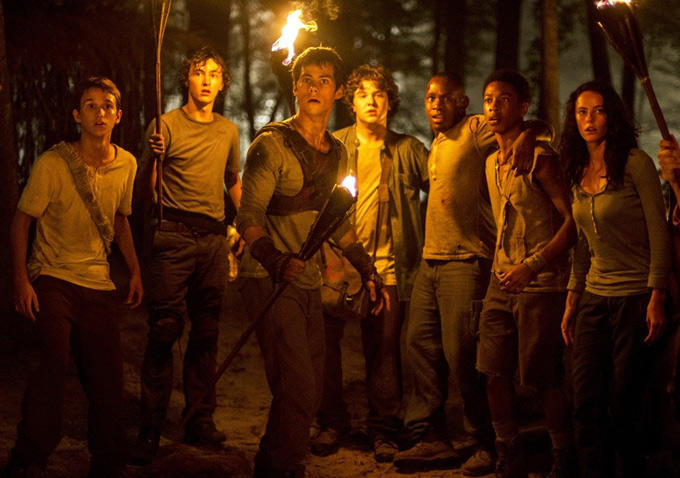 Comic Con fans got a preview of The Maze Runner, directed by Wes Ball based on the book by James Dashner, and the fans loved it. Now there's a new Maze Runner trailer, which delves a bit deeper into the story of a young guy named Thomas (Dylan O'Brien of MTV's Teen Wolf) who finds himself in the Glade, a wholly unusual community in the middle of a massive labyrinth. There he and the other boys similarly exiled try to survive and escape the maze. Things get more complicated when Teresa (Kaya Scodelario of Skins) shows up. She's the first woman to arrive in the Glade, and she already knows Thomas. 
At Comic Con, a longer clip was shown that featured an encounter with a Griever, and illustrated how Thomas begins to deal with those creatures. They're a lot larger than the brief look in this trailer makes them appear, and their bio-mechanical design is definitely unsettling. We know there's a sequel to this film already in the works, so we've got a pretty good idea how it ends, but we can look forward to those creature encounters. And not having read the book, I'm curious about the resolution to this whole maze situation.
The Maze Runner opens on September 19. It also stars Thomas Brodie-Sangster, Will Poulter, Aml Ameen, and Ki Hong Lee. Trailer via Yahoo.
When Thomas (Dylan O'Brien) wakes up trapped in a massive maze with a group of other boys, he has no memory of the outside world other than strange dreams about a mysterious organization known as W.C.K.D. Only by piecing together fragments of his past with clues he discovers in the maze can Thomas hope to uncover his true purpose and a way to escape. Based on the best-selling novel by James Dashner.