See The First Photos From 'Night At The Museum 3' Before A Trailer This Week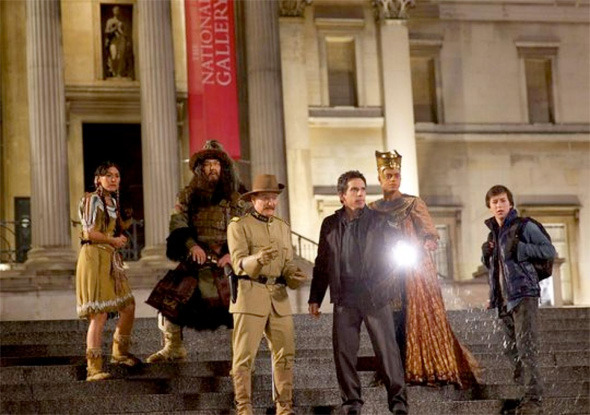 Night at the Museum: Secret of the Tomb opens December 19 and it'll be the third and final film in the trilogy. Directed by Shawn Levy, the films star Ben Stiller as a museum security guard who discovers everything in the museum comes to life after hours. In this third film, the group – which includes characters played by Robin Williams, Owen Wilson and Steven Coogan  - travel to London when the artifact that makes their nightly lives begins to decay.
The first few images from the film have now been released, including glimpses of Dan Stevens (Downton Abbey, The Guest) as Sir Lancelot and the revelation the film goes out of the museum and onto the streets. The trailer hits later this week but, for now, see the first Night at the Museum 3 images below.
Here are the first Night at the Museum 3 images from USA Today. Head there to read more about the plot.
New characters in the London setting this time around include a new security guard, played by Rebel Wilson, and the keeper of the tablet, played by Ben Kingsley.
These movies are hugely successful and really perfect for the Christmas crowd. I will say, though, while I enjoyed the second film more than the first, I'm not particularly interested in this. I get that it's different from the first two and that I'm not the target audience, but the whole "Let's go to London" angle for a big sequel twist feels like it's getting played. Even on television, moving the story to the UK is a lazy way of trying to give a property a new feel with still keeping the language understandable for general audiences. 24: Live Another Day is one example, Thor: The Dark World comes to mind, I'm sure there are others. Maybe Levy and Stiller have done something different, fun and exciting here but these photos don't get me particularly excited to watch a trailer.
What do you think about Night at the Museum: Secret of the Tomb?