Harry Potter Gets His Own 'Boyhood' In 'Potterhood' Parody Trailer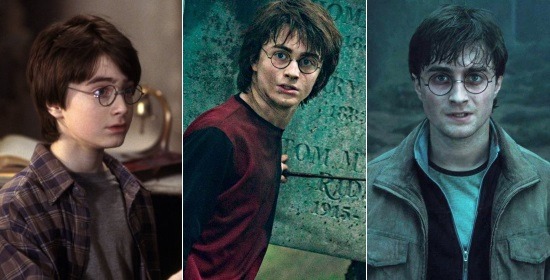 Sure, Richard Linklater might be the first to make a coming-of-age movie by shooting a single actor over a twelve-year period. But even as he was shooting his ambitious Boyhood, audiences around the world were breathlessly watching a different boy sprout up, fill out, drop his voice, fall in love, and endure a veritable parade of misguided father figures on the big screen.
That boy of course was Harry Potter, played by Daniel Radcliffe. Over ten years and eight films, we saw him grow from an innocent kid, into a gawky adolescent, and finally into a brave man. (And then into a brave man terrorized by bad old-age makeup, but let's try to forget about that.) It seems only fitting that he should get his own Boyhood, so here's the Potterhood parody trailer to help remedy that.
Maybe it's the music (Family of the Year's "Hero"), but I have to admit to getting just the slightest bit throat-lumpy at the sight of Radcliffe and company aging ten years in two minutes.
When Radcliffe first signed on to play Potter in 2000, there was no guarantee he'd stay in the role for the rest of the franchise. In fact, it was more or less assumed by most fans that the child actors would have to be switched out at some point. But he lasted, along with his young co-stars. As a result, we got to follow these kids through adolescence in real time.
While the Harry Potter series isn't nearly as dependent on having a consistent central actor as Boyhood is, the fact that Radcliffe stuck around made it all the more powerful to see him emerge in Harry Potter and the Deathly Hallows as a fully formed man. At the very least, it made all of those retrospectives and behind-the-scenes clips feel way more bittersweet.