'Kill Bill: The Whole Bloody Affair' Limited Release Coming Next Year?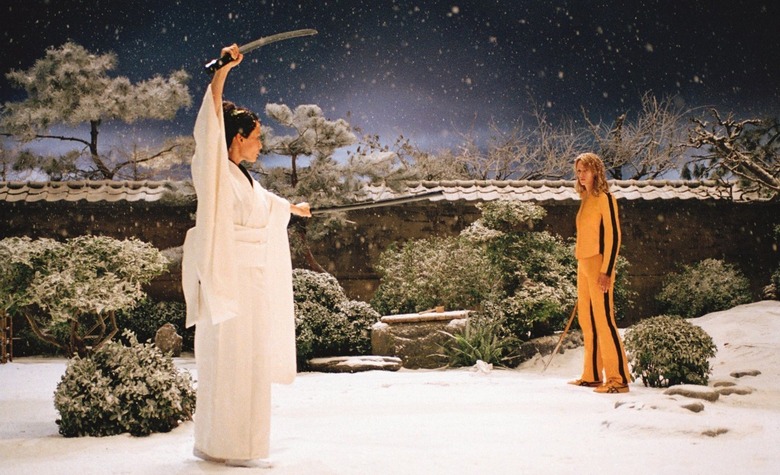 Quentin Tarantino has been promising a release of Kill Bill: The Whole Bloody Affair for years now, and now he says he's almost ready to deliver. During an appearance at San Diego Comic-Con over the weekend, Tarantino revealed that he and The Weinstein Company have had discussions about releasing the film in theaters "within the next year." Hit the jump to read his comments.
At his Dynamite Entertainment panel, Tarantino was asked yet again for a status update on Kill Bill: The Whole Bloody Affair. Here's what he said, via Collider:
What's going on with that is originally back when Kill Bill was going to be one movie, I wrote an even longer anime sequence. So you see in the movie [O-Ren] kill her boss but then there was that long hair guy... The big sequence was her fighting that guy. I.G. [The Japanese Anime Studio] who did Ghost in the Shell said we can't do that and finish it in time for your thing. And [plus] you can't have a thirty-minute piece in your movie. I said okay. It was my favorite part but it was the part you could drop. So we dropped it and then later when I.G. heard we were talking about doing Kill Bill: The Whole Bloody Affair — they still had the script so without even being commissioned, they just did it and paid for it themselves. It's really terrific. Anyway, The Weinstein Company and myself were talking about actually coming out with it sometime, not before the year is out, but within the next year with limited theatrical engagement as well.
One would be forgiven for being skeptical of Tarantino's latest comments given that he's been talking up Kill Bill: The Whole Bloody Affair for so long with so few results. But we have our fingers crossed he's telling the truth, and that the Weinstein Co. remains interested. Kill Bill: The Whole Bloody Affair did actually hit theaters in 2011 — or rather, a theater. The same print that screened at Cannes played for a little less than two weeks at the New Beverly Cinema in Los Angeles. According to Germain, who saw it at the time, it's so much more than just watching the two movies back-to-back. It'd be great if other, non-Angeleno fans could get to enjoy that experience as well.