Watch A Five Minute Preview Of 'The Simpsons' / 'Family Guy' Crossover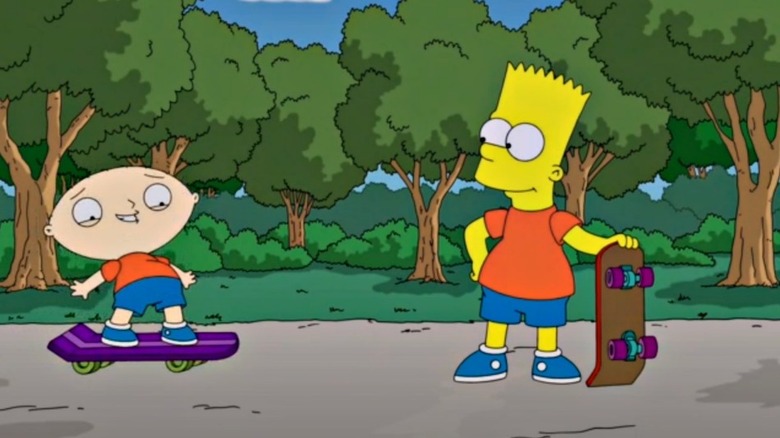 The Simpsons and the Griffiths have danced around each other for years, sharing Fox's Animation Domination programming block and taking good-natured jabs around each other on their respective shows. But it's only this fall that they're coming face-to-face for the very first time.
At Comic-Con this weekend, attendees got a first look at the upcoming Simpsons / Family Guy crossover in the form of a five-minute preview. Now the clip has just hit the web, and you can check it out after the jump.
The Simpsons and Family Guy are pretty distinct in terms of style and humor, but the mash-up works surprisingly well. They even manage to work in a cheeky nod at another Animation Domination staple.
At the most basic level, the Simpsons and the Griffiths have quite a bit in common. Both are stereotypes of the "average" middle-class American family, with sloppy patriarchs, patient (if naggy) matriarchs, and mischievous kids.
So perhaps it's no surprise that at first, the two families seem to be getting along like gangbusters. In the clip above, Peter and Homer bond over a mutual appreciation of donuts, while Stewie is impressed by Bart's capacity for trouble-making.
Then it all goes south with an argument that should sound awfully familiar to both Simpsons devotees and Family Guy apologists. "It's just a lousy ripoff!" Homer says of Peter's beloved Pawtucket Patriot Ale. Peter shoots back: "It may have been inspired by Duff's, but I like to think it goes in a different direction."
But even if the two sides are able to resolve their differences, don't expect too many repeat visits in the future. When Lois suggests making another trip to Springfield, Brian is skeptical. "I don't know, Lois, this seems like a one-shot deal," he says.
The hourlong episode will air this fall as the premiere of Family Guy's 13th season. The Simpsons enters its 26th(!) season this year.