'Ant-Man' Confirms Yellowjacket And Hope Van Dyne; Watch The Full Panel Now [Comic-Con 2014]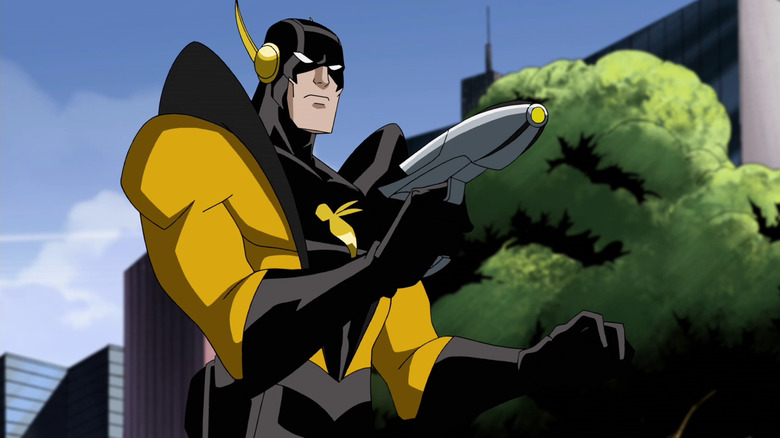 Two years ago in Hall H, we got our first peek at some test footage from Ant-Man. This year, we finally got a taste of the real thing. Kevin Feige, Peyton Reed, Paul Rudd, Michael Douglas, Corey Stoll, and Evangeline Lilly took the stage to promote their new film, dishing up new details and footage.
Among other things, we finally got confirmation that Stoll would be playing Darren Cross a.k.a. Yellowjacket, and that Lilly would be playing Hank Pym's daughter Hope Van Dyne. Hit the jump to find out what else we learned, and to get the details.
UPDATE: Watch the full panel below.
Not surprisingly, given that their characters are at cross purposes, Douglas and Stoll had very different descriptions of Darren Cross. Douglas called him Pym's "partner, who has taken their company in a different, evil direction." Stoll said: "I was Hank Pym's mentee and a genius scientist as well. I have taken over the company and some very judgmental people may think that's in an evil direction, but I think I'm just taking it into the future."
The director, producer, and cast were more vague about Lilly's role in the film. In fact, it sounds like Lilly doesn't even know much about Lilly's role in the film. "I can't tell you anything else about her because I don't know, I don't have a script," she said. She was introduced as Hope Van Dyne by Kevin Feige, then Lilly called her character "Hope Pym," leading to some confusion. Marvel sources later clarified that she is named Hope Van Dyne — implying that there's a Janet Van Dyne character somewhere in the mix, if only in a minor way.
Interestingly, Stoll's arc actually represents a big deviation from the comics. As originally written, Cross is indeed the head of a major technological firm a la Stark Industries. However, he doesn't take on the alter ego Yellowjacket in the books — Hank Pym does.
As for Hope, in the comics she's a minor character (named Hope Pym, adding to the confusion) who appears only in some alternate-Earth stories. She's the daughter of Hank Pym and Janet Van Dyne, and eventually becomes the supervillain Red Queen. But we don't know what'll happen with her big-screen counterpart. As the Darren Cross storyline indicates, Marvel Studios is more than willing to tinker with the comic book mythos.
Ant-Man begins shooting August 18 in Atlanta for release on July 17, 2015.
UPDATE: Here's the full panel from Comic Con