'Mad Max: Fury Road' Comic Con Trailer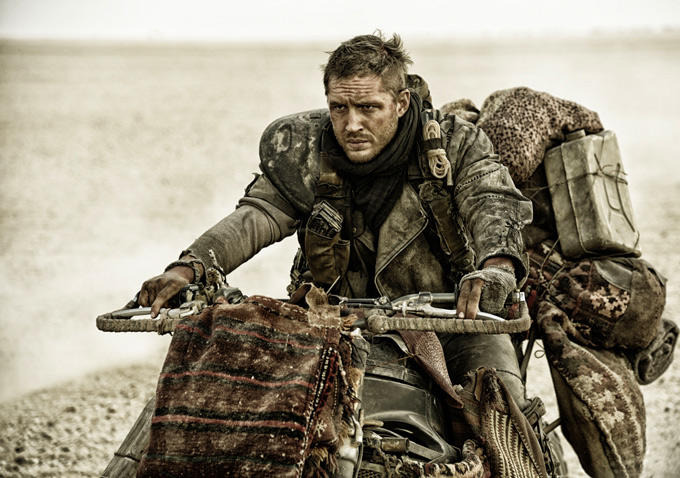 Update: Warner Bros has released a three minute version of the Mad Max: Fury Road comic con footage. This is about three minutes out of what was shown at Comic Con, but it'll give you a really good idea about why we were so taken with the footage. Watch the trailer now after the jump. That embed is followed by our original panel coverage from Saturday's showing.
From yesterday:
Warner Bros. publicly unveiled the first footage from Mad Max: Fury Road today in Hall H at Comic Con, and I wish we could just show you what the studio showed today. (Now we can! It's above!) Ideally, you'd want your screen to open up to IMAX size to watch this new Mad Max footage, because it is staggeringly huge. Director George Miller described the film as being right in line with his three previous Max films — "a very simple allegory, almost a Western on wheels."
But there's nothing simple about the footage we saw. It may not have much dialogue, and it really is a car chase... but saying it is "just" a car chase is to wildly undersell what Miller has made. This trailer featured what appears to the the ultimate car chase, starting with the DNA of The Road Warrior, but then opening up into incredible vistas and blasts of action that go far beyond what Miller has put on screen in the past. It was incredible to see.
Taking the stage early in the panel, Miller explained his desire to create an extended chase scene. "The story popped in my head and just wouldn't go away. I love chase movies; they're the purest form of cinema. I wanted to make one long extended chase, and see what we could pick up about the characters on the way."
This film has so little dialogue that Miller didn't even write a script for the movie. Rather, he did a series of 3500 storyboards to write the film, in order to map it out visually. "Even though this is set in the future," he said, it is a ragged on in which we have "gone back to an elemental form of behavior. There's no rule of law."
The appeal of the spartan story, and the Western, is that these can be "very spare and clear movies." More to the point, "you can get away from all the clutter. And for some reason I just love wrecking cars."
Miller's comments were thoughtful and hopefully will be expanded into an eventual blu-ray commentary when the film has done its theatrical run. But the greatest effect came from playing some of the movie.
The screened footage opens with that poster shot of Max, back to the camera, up on a plateau with his car nearby. A lizard crawls into the foreground, and turns its head to reveal two heads. We hear a radio broadcast talking about water wars as Max stomps on the lizard, and eats it. "My name is Max," we hear in voiceover, "my world is fire and blood." He hears something, dives into the car and takes off. And in rapid succession, an angry line of vehicles powers after Max.
From there, it's madness. Max is captured and tortured, with words tattooed on his body. He's eventually fitted with a metal face mask and mounted on the front of a vehicle that is part of one of the chase sequences. There's a villain with a skull-ish face mask (seen below, played by Hugh Keays-Byrne from Mad Max) who seems to be calling the shots, and a number of figures with faces and bodies painted white. Nicholas Hoult seems to be among them. (Update: he is, as seen in his poster below.)
In one location we see walls painted with bloody text: " Who killed the world?" and "We are not things." The conflict seems to be over a set of women in white, who are protected by Charlize Theron.
And from there, the chase is really on. Cars race forward through HUGE storms. A set of vehicles is pulled up into a tornado. Cars explode high in the air. Max struggles through this sequence, still with the metal prison mask over his face, until he finally pries it off his head in a painful sequence.
There's more, but it's a bit ridiculous to write out the effect of scenes that were explicitly designed as purely visual storytelling. We'll present footage from the movie as soon as possible. In the meantime, here are the four character posters.
Mad Max: Fury Road opens on May 15, 2015. The cast also includes Nathan Jones, Zoë Kravitz, Riley Keough, Rosie Huntington-Whiteley.
MAD MAX: FURY ROAD is the fourth film of George Miller's Road Warrior/Mad Max franchise co-written and directed by Miller. The post-apocalyptic action film is set in the furthest reaches of our planet, in a stark desert landscape where humanity is broken, and most everyone is crazed fighting for the necessities of life.
Within this world of fire and blood exist two rebels on the run who just might be able to restore order... There's Max (played by TOM HARDY from The Dark Knight Rises), a man of action and a man of few words, who seeks peace of mind following the loss of his wife and child in the aftermath of the chaos. And... Furiosa (played by CHARLIZE THERON from Prometheus), a woman of action and a woman who believes her path to survival may be achieved if she can make it across the desert back to her childhood homeland.