Three Marvel Movie Directors To Helm Episodes Of 'Agent Carter' TV Series [Comic Con 2014]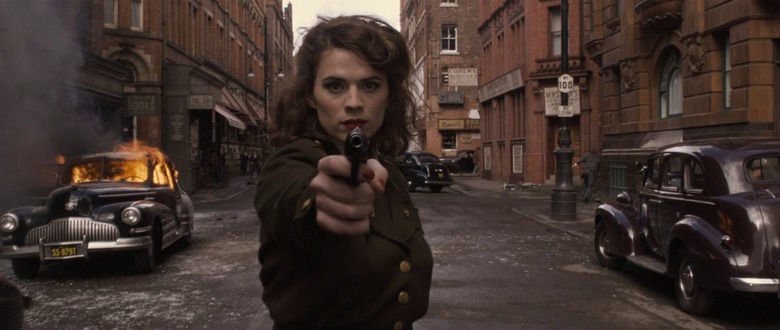 At today's Marvel Television panel, the first four directors for ABC's upcoming Agents of S.H.I.E.L.D prequel series Agent Carter were revealed. The four filmmakers all hail from the Marvel Cinematic Universe, both feature and short, and include some names you might not expect to be directing television. Find out who the Agent Carter directors will be after the jump.
As you probably know, Hayley Atwell played Peggy Carter in Captain America: The First Avenger. Her character had her first solo adventure in the Marvel One-Shot: Agent Carter directed by Marvel Studios producer Louis D'Esposito. The short film showed how Peggy Carter rose in the ranks and was at beginnings of SHIELD:
D'Esposito revealed that he will be directing the pilot episode of the upcoming series, but also surprised the crowd with news of the other three directors who will helm the first four episodes of the series. Captain America: The Winter Soldier helmers Joe Russo and Anthony Russo will be directing the second and third episodes of Agent Carter. Also Lou just got off the phone with Captain America: The First Avenger director Joe Johnson who wants to helm the fourth episode of the series (although it was noted that no contracts have yet been signed).  Also Winter Soldier writers Christopher Markus and Stephen McFeely wrote the pilot of Agent Carter. Its great to see that ABC has such great talent from the Marvel movie universe working on the new series.
Showrunners Tara Butters and Michele Fazekas (Reaper) were approached by ABC to run Agent Carter during the first season of Resurrection. The show did such great ratings that the network also wanted them back for the second season of that show so Butters and Fazekas are show running both shows at the same time (I'm not sure thats a good thing).
They also screened a promo reel which featured clips from history, alongside shots of classified files, stark inventions and clips of Atwell from Captain America and the One Shot. Carter's voice over: "The world is changing and if history has taught us anything, it is that freedom is not free."
Also notable, when asked Loeb said it would be fantastic if Dominic Cooper could reprise his role as Howard Stark from the Marvel films. Such a tease, I would bank on it.