'Escobar: Paradise Lost' International Trailer: Benicio Del Toro Thrives As A Monster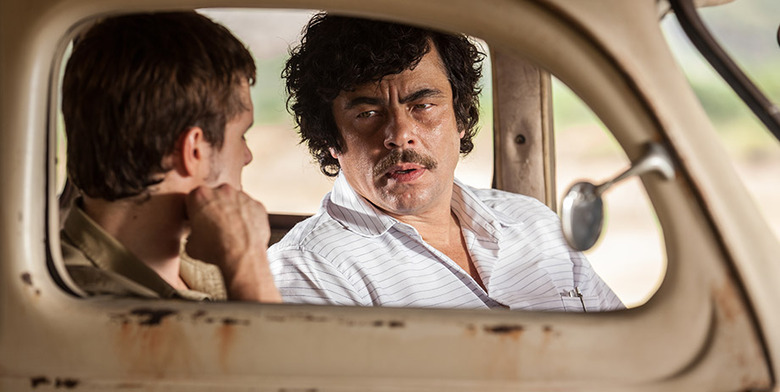 In Escobar: Paradise Lost, Benicio del Toro plays drug kingpin Pablo Escobar, delivering a performance that is already drawing strong praise after the film's Telluride debut. But this isn't just another "rise and fall" story focusing on a famous outlaw. The film, directed by Andrea Di Stefano, follows a college student (Josh Hutcherson), who falls for a local girl while in Colombia, only to discover that her uncle is an internationally-infamous drug lord. Check out the Escobar: Paradise Lost international trailer below.
Sampling reviews points out a few issues with the film, but nothing short of praise for del Toro's performance.
THR: "This ambitious directorial debut by Italian actor Andrea Di Stefano takes some helpful hints from The Godfather in concentrating on the family circle around a notorious criminal figure, making possible a multi-dimensional view of the notorious Colombian drug lord Pablo Escobar which is further aided by a full-bodied performance from Benicio del Toro."
Variety: "Escobar offers an odd mix of action movie, romantic melodrama and cautionary traveler's tale, which works better than it should thanks to Del Toro's fascinating performance and Di Stefano's assured, muscular helping."
The Playlist: "Unfortunately, Escobar is a supporting character in his own movie, a situation that brings to mind "The Last King of Scotland," which enlisted Forest Whitaker to play Idi Amin but then similarly decided we'd rather spend more screen time with a completely fictional Caucasian who gets improbably pulled into the foreign despot's lair. Perhaps 'Escobar' writer-director Andrea Di Stefano was following the advice that a little bit of a super-villain goes a long way, but there's a lot of stretching involved to set a movie entirely in Colombia and then go through hoops to make the lead a Canadian."
IndieWire: "It's Del Toro who manages the strongest achievement, imbuing Escobar with a creepy blend of charm and cruelty as he peers out from above a scrappy beard and orders death with ease. Short of his forgettable turn in "The Wolfman," this is the actor's first genuine monster role."
There's no US release date yet for the film, which will play TIFF in the next week.
In Colombia, a young surfer meets the woman of his dreams – and then he meets her uncle, Pablo Escobar.