'The Walking Dead' Season 5 Trailer; Premiere Set For October 12 [Comic Con 2014]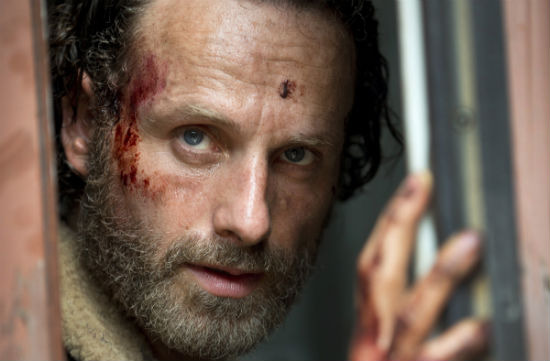 The Walking Dead took over Hall H on Friday at Comic Con, and the showrunners brought along a brand new trailer. The next season will premiere October 12, but for now you can check out the first Walking Dead Season 5 trailer below. Plus, read some of the highlights of the panel including some new additions to the cast and answers to questions about where this season will go.
Here's the trailer. Read more about the panel after that.
Walking Dead Season 5 trailer
As usual, the panel is mostly a chance for fans to ask question of their favorite stars, but the showrunners, producers and more had some cool tidbits to report. Here are a bunch:
It's the most ambitious season they've ever done, according to moderator/Talking Dead host Chris Hardwick.
We're going to see how Terminus was created.
Because everyone has done such terrible things, "this season will define these characters."
Eventually, the season will begin to have a lot of events fans know and love from the comic book. Lots of things they've been waiting for are in this season.
The Blu-ray will features the uncensored version of the final line of the season, like it was in the comics.
There will be more suburban and urban setting this year.
Seth Gilliam (The Wire) has been cast as Father Stokes.
There are a lot of new walker set pieces including some who have been stuck in water for years. Their skins melts off them and when you punch them, they explode with gross water.
They will return to some old locations.
As stated above, The Walking Dead season 5 will return on October 12.