'Hannibal' Season 3 Returning Cast Members Might Surprise You [Comic-Con 2014]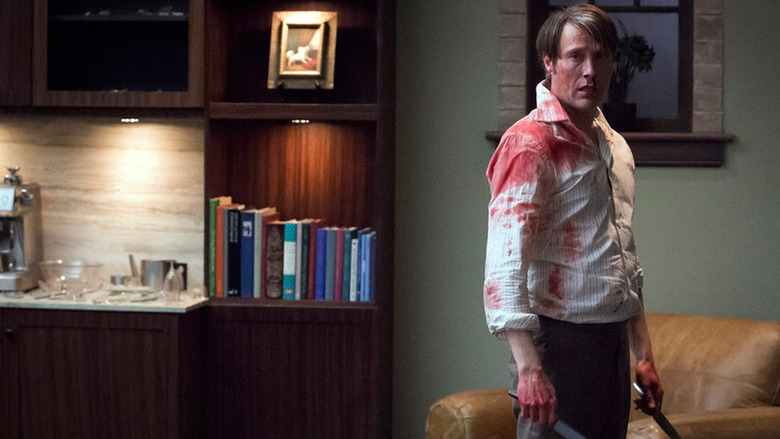 Bryan Fuller may not be quite at George R.R. Martin's level when it comes to killing off beloved characters, but Hannibal is still a show about a serial killer. It should come as no surprise that from time to time, characters get shot in the face, chopped into pieces, or braised in a nice wine sauce.
What is shocking is that sometimes, those characters nevertheless find ways to come back. At the Hannibal Comic-Con panel Thursday, Fuller confirmed the returns of two fan favorite characters believed to be dead. Hit the jump to find out who, and to get some more details on Hannibal Season 3. (Be aware the spoilers follow.)
Update: We've added video of the full Comic Con panel (minus footage clips) for Hannibal.
For starters, Fuller introduced Raul Esparza onstage and confirmed that Dr. Chilton would be back in Season 3, even though he took a bullet in the face in Season 2. "Chilton's like a weeble wobble. You shoot him in the face, and he just comes right back," said Esparza. "I told Bryan I expect him next season to have an eyepatch, a hump, and a parrot."
Fuller also revealed that Eddie Izzard would be reappearing next season as Dr. Gideon — though unlike Chilton, he's dead for real. "He got et," said Fuller. Also returning is Kacey Rohl as Abigail. "It would be a lot of fun to do an episode in Season 3 that explains where she was and what she was doing," said Fuller. "She will be a part of Season 3. We will see the actress again."
On top of all that, Fuller promised Season 3 would introduce new characters from the Hannibal canon including Francis Dolarhyde (in episode 8), Lady Murasaki (who will "kick all sorts of ass") and Commander Pazzi. And yes, that means Hannibal is doing the Red Dragon storyline, as stated by DeLaurentiis.
On an unhappier note, Fuller had to break the news to one fan that Barney was still owned by MGM, along with Clarice Starling. The showrunner reassured fans that he and his team would engage in a "full court press" for the Clarice rights. Should that fail, he pointed out, they could always do "Schmarice Schmarling."
Moving on, Fuller also verified rumors that Season 3 picks up a year after Season 2 "because we want to be very vague with who survived that bloody, bloody night, and because we wanted to land the characters in a place where they were active." He continued:
It was very intentional that we wanted to take a space, land Hannibal and Bedelia, because the first episode is very much a pilot for a new series starring Gillian Anderson and Mads Mikkelsen. It was important for us to have a passage of time so we could come into their story at the most dramatic point, and episode 4 will detail what happened between the season 2 finale and the events of season 3. We're telling the story emotionally as opposed to temporally.
The shift in focus means the FBI will be less present in Season 3. "The entire first half of the season is relatively FBI-light," Fuller stated. "You only see the FBI once in the first seven, because it's all about the pursuit of Hannibal."
As for what exactly Hannibal Lecter will be up to, Fuller teased that the episode titles would be a clue. Whereas Season 1 took its titles from French cuisine and Season 2 was named after Japanese courses, Season 3 episode titles will be Italian themed.
Meanwhile, Abrams and Thompson expect their characters to remain their usual goofy selves. "We have a spinoff in development where we move to a small fishing town and we open up a bait shop together, but we just can't stay out of trouble!" joked Abrams.
Update: Here's video of the full panel:
[Sources: HitFix, Vox, Digital Spy]