'50 Shades Of Grey' Trailer: Your First Tease Of Christian Grey And Anastasia Steele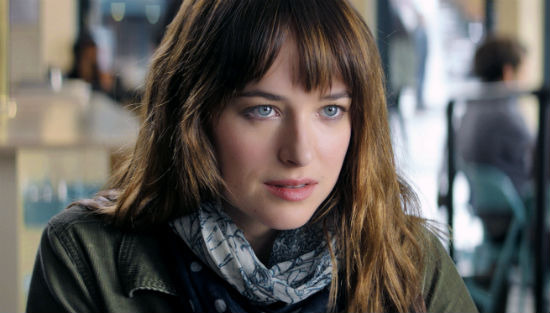 It's a big day for fans of the popular book 50 Shades of Grey. The trailer for the film, directed by Sam Taylor-Johnson, is now online. Finally, fans can see the erotic romance in live action, starring Jamie Dornan as Christian Grey and Dakota Johnson as Anastasia Steele. Check out the first 50 Shades of Grey trailer, along with some new stills, below.
Here it is.
50 Shades of Grey trailer
And here are some new stills:
Fifty Shades of Grey is the hotly anticipated film adaptation of the bestselling book that has become a global phenomenon.  Since its release, the "Fifty Shades" trilogy has been translated into 51 languages worldwide and sold more than 100 million copies in e-book and print—making it one of the biggest and fastest-selling book series ever.
Stepping into the roles of Christian Grey and Anastasia Steele, who have become iconic to millions of readers, are Jamie Dornan and Dakota Johnson.
Joining Dornan and Johnson in the cast are Luke Grimes as Elliot, Christian's brother; Victor Rasuk as José, Anastasia's close friend; Eloise Mumford as Kate, Anastasia's best friend and roommate; Marcia Gay Harden as Dr. Grace Trevelyan Grey, Christian's mother; Rita Ora as Mia, Christian's sister; Max Martini as Taylor, Christian's bodyguard; Callum Keith Rennie as Ray, Anastasia's stepfather; Jennifer Ehle as Carla, Anastasia's mother; and Dylan Neal as Bob, Carla's husband.
Fifty Shades of Grey is directed by Sam Taylor-Johnson and produced by Michael De Luca and Dana Brunetti alongside E L James, the creator of the series.  The screenplay for the film is by Kelly Marcel. www.fiftyshadesmovie.com
50 Shades of Grey opens February 14, just in time for Valentines Day. This trailer will be in theaters this weekend in front of Luc Besson's Lucy. What did you think of the trailer? Did it live up to the huge hype?