Video: Tour The 'Crimson Peak' Gothic Gallery With Guillermo Del Toro [Comic Con 2014]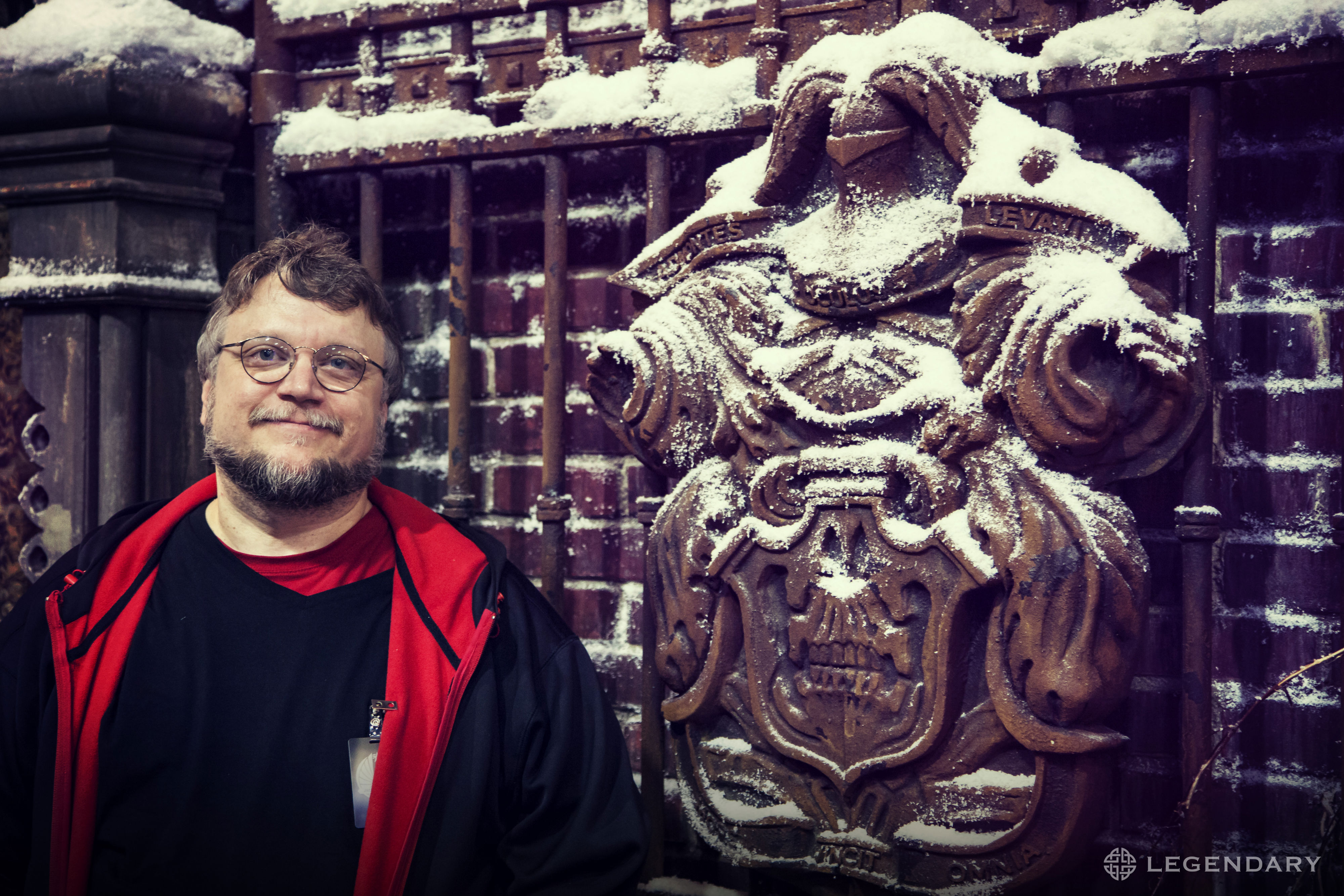 Guillermo del Toro brought his own private haunted mansion to San Diego Comic-Con. One half of the Legendary Pictures booth is a snow covered gate with a huge brass family crest. The name above it? Crimson Peak. Inside in a very small, but detail filled, frightening experience designed by the man himself. Big family portraits are on the walls, the ceilings are cracked and in them you can see birds flying in the night. Two dresses from the film, each expertly detailed, bookend a shelf filled with trinkets that tell the story of the film, which opens October 16, 2015.
Below, see Crimson Peak photos from inside the exhibit and watch a video of our private tour, narrated by the man himself, Guillermo del Toro.
Here are some photos provided by Legendary from the booth.
Crimson Peak photos
And here's a video from inside. Apologies for some of the fast whip pans, dark lighting and terrible sound. I shot this all in one take while trying to concentrate on what's going on. Plus, I wanted to get it up fast so you could see it as soon as possible.
Here's the official description both of the booth, and a contest for Comic-Con fans.
THE CRIMSON PEAK GOTHIC GALLERY 
A physical experience handcrafted by Guillermo del Toro himself, fans will get a glimpse behind the curtain of Crimson Peak and an early tease of the ultimate haunted house. Designed in the look of one of the sets of the movie, the Gothic Gallery is a living breathing gallery of curiosities that includes props, costumes, and an atmospheric soundscape designed by Academy Award Winner Randy Thom. As people walk through, they will get the message loud and clear – BEWARE CRIMSON PEAK!
CRIMSON PEAK GOLDEN TICKET GIVEAWAY
Additionally, Legendary will host a Golden Ticket contest for Crimson Peak. The winner will have a chance to meet Del Toro on Saturday, July 26that the Legendary booth.
To win the "Golden Ticket," fans will need to go to a like-gated Facebook application that lives on the Crimson peak Facebook page (facebook.com/crimsonpeakmovie
) where they will be able to enter for a chance to win the grand prize.
The haunting gothic horror story, directed by the master of dark fairytales Guillermo del Toro, will be released by Universal Pictures on October 16, 2015.