UPDATED: Ben Affleck's Batsuit From 'Batman V Superman' Revealed [Comic-Con 2014]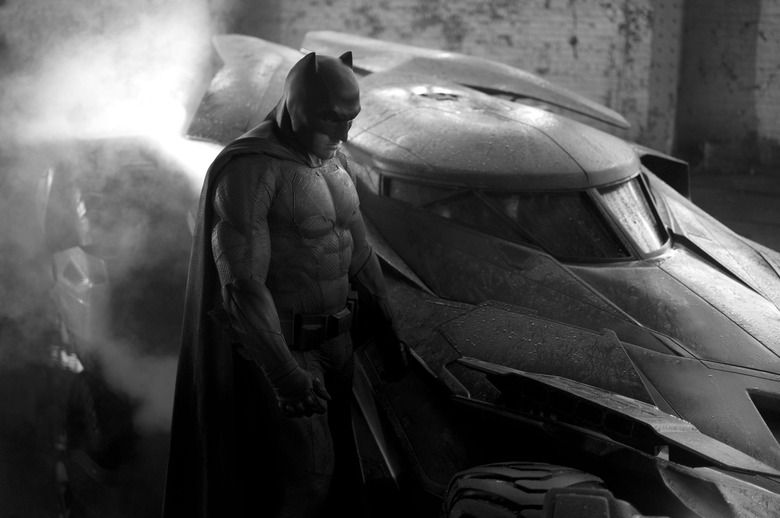 Batman has gone through many different looks over the years, and he's about to get one more in Batman v Superman: Dawn of Justice. Today, we got a good close-up look at the latest version of his Batsuit thanks to San Diego Comic-Con. Check out some photos after the jump.
UPDATE: A new photo was revealed Thursday afternoon. See it below.
DC Entertainment displayed the new Batman costume, which will be worn by Ben Affleck in Batman v Superman: Dawn of Justice, on the Comic-Con exhibition floor. To clarify, it's not the full costume (as seen in the still above) but just the cape and cowl.
Though Batman's costume has incorporated shades of gray and blue from time to time, the new cape and cowl are very clearly black. The photographs also don't do justice to the cape. It was made of leather (or leather-like material at least), with a rough texture that made it look both elegant and tough. In short, it was just the kind of material a billionaire vigilante might pick out for himself.
The costume also comes with angry eyebrows etched right into the cowl, so that Batman can express his righteous fury even when most of his face is covered up. Which is kind of funny, when you think about it. Just imagine Batman designing his costume and realizing that he's so constantly unhappy, there's no point in even giving himself the option of putting on a happy face.
Then again, when you've been at it as long as he has I suppose you just know what you like. The Ben Affleck Batsuit was part of a mini-exhibition celebrating the 75th anniversary of Batman's debut in the comics, with the Michael Keaton, George Clooney, and Val Kilmer Batsuits also on display.
Batman v Superman: Dawn of Justice opens May 6, 2016. Zack Snyder is directing, with Henry Cavill, Gal Gadot, Amy Adams, and Jesse Eisenberg also staring.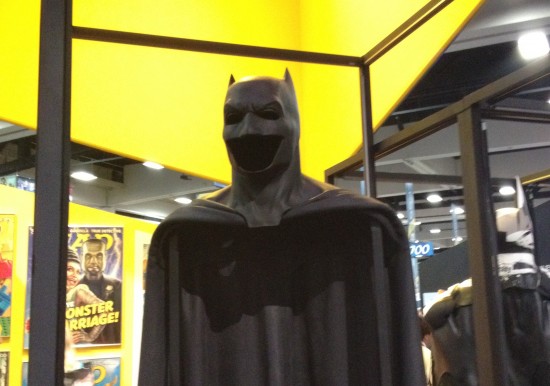 UPDATE: Here's a new photo, tweeted by set photographer Clay Enos: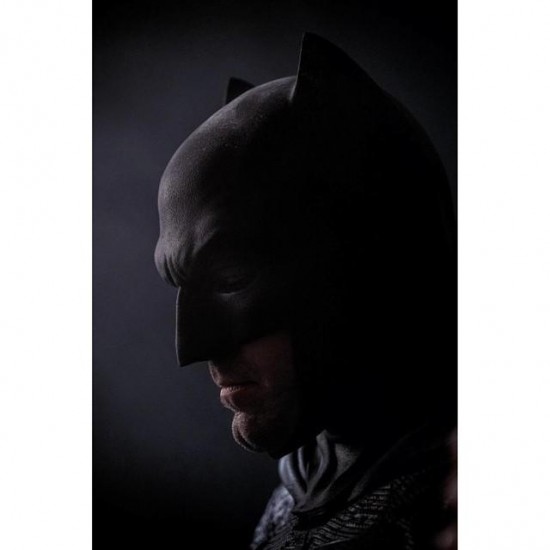 Here's the Tweet:
Excellent use of a Nikon D4 eh? #batmanvsuperman #slr http://t.co/CoLCXezE0h pic.twitter.com/vjJuKehxax

— Clay Enos – Bitcoiner/Photographer (@ClayEnos) July 24, 2014