Sequel Bits: 'Star Trek 3', 'Pitch Perfect 2', 'Sinister 2', 'Expendables 3'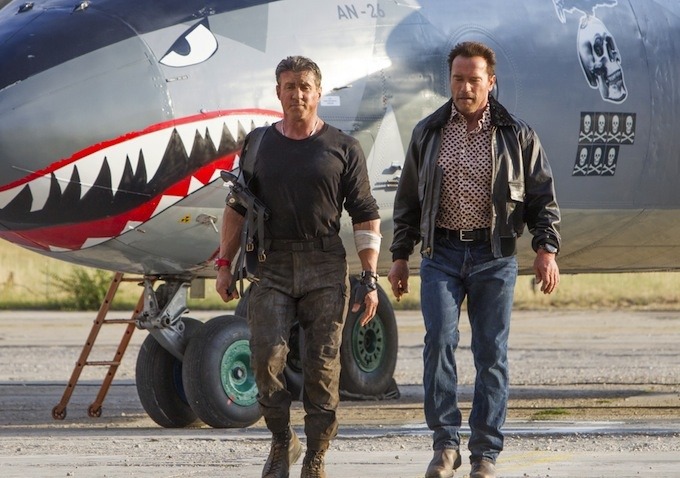 Just because Comic-Con is happening doesn't mean the world of sequels have stopped turning. After the jump:
Zoe Saldana pleads ignorance about Trek 3 and Avatar 2
Roberto Orci teases some new discoveries in Star Trek 3
Zachary Quinto wants to direct, but not a Star Trek movie
CBS Films plots another trip to Last Vegas

... in Brooklyn
Universal saves the date for The Best Man Wedding
Focus Features sets a release date for Sinister 2
Flip through some colorful new posters for Expendables 3
A Pitch Perfect 2 set photo hints at a Bellas slumber party
As for Star Trek 3, "I know even less," she insists. "All I know is that the producers of Trek 3 called the producers of Avatar 2 to find out when Avatar will finish shooting." Both films are expected to shoot sometime next year. [
]
Just because Zachary Quinto did a great job following Leonard Nimoy in the role of Spock, doesn't mean he's ready to follow Nimoy in the role of Star Trek director. At least not yet. "I want to direct," Quinto admitted. "That's something I aspire to, but I doubt that I would feel confident enough to start in that realm."
Meanwhile, Roberto Orci — who actually doesn't have any more feature film directing credits than Quinto does, if you want to get real technical about it — sounds pretty optimistic he'll get the Star Trek 3 gig. "I am in the middle of proving to Paramount that I am the guy for the job," he said.
And he has some thoughts about where he wants to take the story when he clinches the deal.
Well, fans are a little bit nutty, so I have got to be careful with what I say, but I can tell you that it definitely takes place in [deep] space. They're finally on their five year mission and that hasn't been the case in any of the previous movies. The first two movies are set up to where the original series started. Now when you watch this movie, hopefully, you will see that Kirk, Spock and Bones and Scotty, Uhura, and Chekov are very close to the original characters that you saw in the original series and from [there] they're going to hopefully discover some stuff that you haven't seen before.
There's nothing wrong with referencing classic Trek plotlines, but it should be fun to see what fresh ideas Orci can bring to the sequel. Assuming he gets the job, that is. [
]
It seems Last Vegas wasn't the last hurrah for its central foursome after all. CBS Films is "aggressively" pushing forward with a sequel, in which the characters played by Robert De Niro, Kevin Kline, Morgan Freeman, and Michael Douglas return to their old stomping grounds in Brooklyn. But once they get there, they're dismayed to see the neighborhood just isn't the same anymore. Jon Turteltaub is expected to direct again. [
]
Fourteen years passed between 1999's The Best Man and its sequel, The Best Man Holiday. However, the gap between The Best Man Holiday and its follow-up will be much shorter. Universal has just scheduled The Best Man Wedding – the third in the series — for April 15, 2016.
Malcolm D. Lee is set to return as writer and director. Also coming back is the core cast, which includes Morris Chestnut, Taye Diggs, Regina Hall, Terrence Howard, Sanaa Lathan, Nia Long, and Harold Perrineau. [
]
Sinister's $18 million opening weekend pretty much guaranteed that there would be a sequel, and now we know when that movie will arrive. Focus Features has announced that Sinister 2 will hit theaters August 21, 2015, with Ciaran Foy directing. Scott Derrickson, who helmed the original, is writing the script with C. Robert Cargill. The pair also wrote the last film. [
]
In honor of Comic-Con, Lionsgate has released sixteen new character posters for The Expendables 3. Whereas the last batch of cast portraits were in stark black and white, these go in the exact opposite direction.
Directed by Patrick Hughes, The Expendables 3 premieres August 15. [
]
Anna Kendrick has posted a new set photo from Pitch Perfect 2, which features a fight scene of sorts. Just one that involves pillows instead of fists. See it below, followed by her caption.
All these bitches wrap tomorrow and leave me behind...... I totally HATE them.
Better feathers than vomit, right? Pitch Perfect 2 arrives May 15, 2015. [
]