Cool Stuff: Hot Toys Announces Back To The Future 1/6th Scale Marty McFly Figure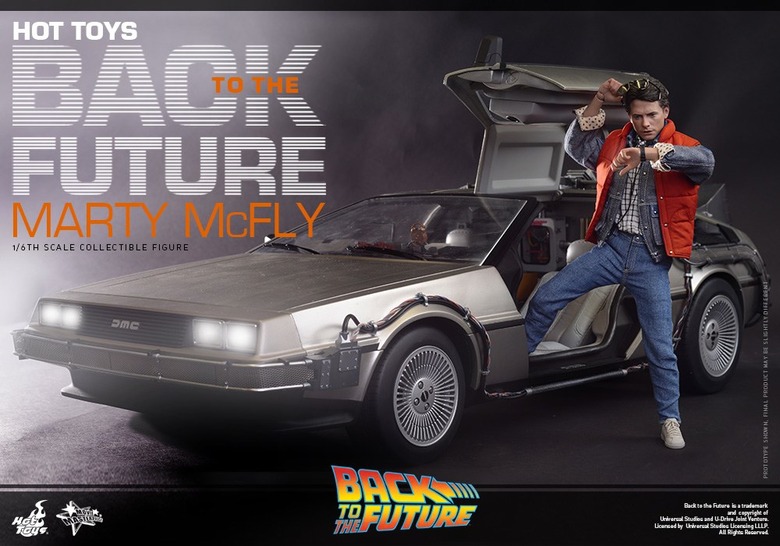 Just as the 2014 San Diego Comic Con is about to kick off, Hot Toys has announced a product which will likely be part of a line of collectibles which will suck hundreds if not thousands of dollars from my bank account. To celebrate the 30th anniversary of Back to the Future, Hot Toys will be producing Back to the Future collectibles. First up is a 1/6th scale Marty McFly figure. Hit the jump to see more photos and learn more about the Back to the Future 1/6th scale Marty McFly Figure.
The movie-accurate Marty McFly Collectible Figure is specially crafted based on the image of Michael J. Fox as Marty McFly in the movie, featuring the newly developed head sculpt, highly detailed costume and a number of accessories. Pre-ordering at Ani-Com will include a 1/6th scale guitar as bonus accessory.
I'm glad they were able to obtain Michael J Fox's likeness rights for this figure and do it right, but what has me more excited is the 1/6th scale Delorean time machine we see in the background of some of the shots. Sure, scaled collectible versions of the Delorean time machine have been released for years, but none of them have been that detailed. I'm sure if Hot Toys is involved, the flux capacitor will be fluxing in the back seat and the time displacement display will be lit up in the front dashboard. Here are the first photos of the Hot Toys Back to the Future 1/6th scale Marty McFly Figure