'Dear White People' Trailer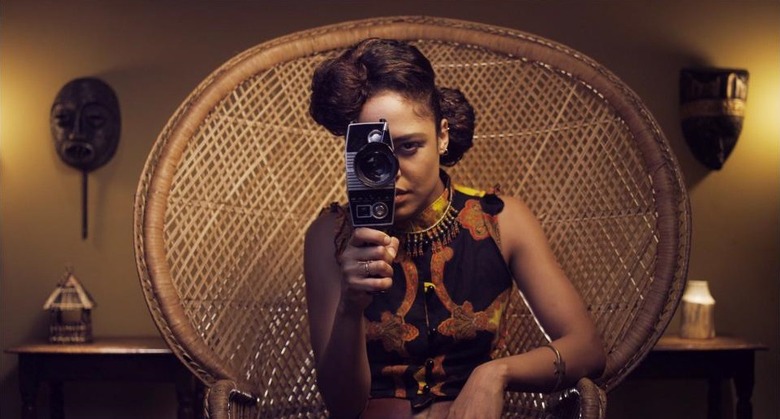 The first trailer for Dear White People made an impression by declaring what it wasn't. It wasn't The Help, it wasn't The Blind Side, it wasn't The Butler, and it definitely wasn't Gremlins, which one character argues is secretly about "suburban white fear of black people." Now a new Dear White People trailer has arrived to tell us what the movie actually is.
As it turns out, the Sundance hit is a wickedly sharp satire about race relations in supposedly America. Tessa Thompson, Tyler James Williams, Brandon P Bell, and Teyonah Parris star as four black students dealing with racial bullshit (among other things) at a predominantly white college. Watch the trailer after the jump.
I can't believe it took me until now to recognize Thompson from Season 2 of Veronica Mars. Veronica would be so proud to see that Jackie's developed such a sharp tongue. TV addicts may also recognize Parris as Dawn from the more recent seasons of Mad Men, if they can get past the very un-Dawn-like makeup.
Dear White People earned a lot of praise at Sundance, and watching the trailer it's easy to see why. First-time feature director Justin Simien tackles touchy topics head-on, with lots of humor and wit. It also feels like a breath of fresh air to see a non-white perspective take center stage onscreen. Mainstream Hollywood tends to be so white, even a film set in Africa and based on African myths will feature lily-white leads.
Dear White People gets a limited rollout starting October 17.
DEAR WHITE PEOPLE follows the stories of four black students at an Ivy League college where a riot breaks out over a popular "African American" themed party thrown by white students. With tongue planted firmly in cheek, the film will explore racial identity in "post-racial" America while weaving a universal story of forging one's unique path in the world.