'Boyhood' Producer (Jokingly) Offers "Time Back Guarantee"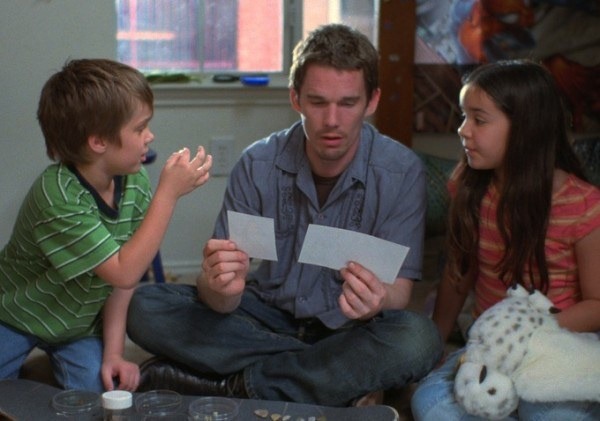 As current cinematic offerings go, Richard Linklater's Boyhood seems like good bet. It's got a respected auteur behind it, not to mention the enthusiastic support of dozens of critics. That said, there are only so many hours in a day, and Boyhood isn't exactly brief.
So for moviegoers worried about wasting their time, producer John Sloss is (jokingly) offering a "Time Back Guarantee." If Boyhood leaves you dissatisfied, Sloss will make it up to you by doing the chores you could've been doing instead. Hit the jump to read his promise.
In recognition of this auspicious event, I am offering any recipient of the email (strictly non-transferable) my patented "Time Back Guarantee," last offered, I believe, in connection with the theatrical release of Exit Through The Gift Shop.
That's right, if you are not absolutely thrilled by Boyhood and/or consider it not to be a good use of your time, I will give you that time back by performing any of your customary chores for up to 2 hours and 43 minutes.
Don't even think about lying, though. Sloss warns in the same email that "there are scientific methods to determine if you are feigning lack of appreciation for Boyhood."
In truth, the odds of Sloss actually agreeing to show up at someone's house with a mop and bucket seem pretty low. Partly because he's clearly kidding, but also because Boyhood is getting some of the strongest reviews of any film in recent memory. Of the over 100 critical reactions tallied by Rotten Tomatoes so far, exactly one has been less than positive.
Still, it speaks to Sloss's confidence in the film. I can't help wishing more producers would take a similar approach with their projects. Michael Bay would owe me two loads of laundry and a balanced checkbook, for starters. 
Boyhood is in select theaters now. Ethan Hawke, Patricia Arquette, and Ellar Coltrane star.