Watch: David Lynch Equates Beauty And Wood At 'Twin Peaks' Premiere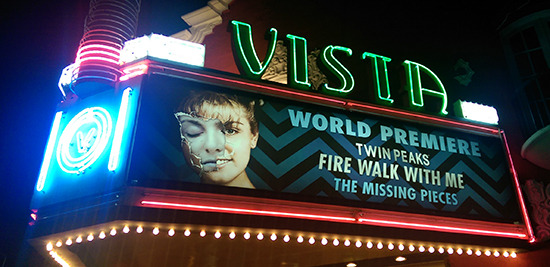 David Lynch recognizes true beauty in wood.
Last night at the Vista Theater in Los Angeles, David Lynch, the American Film Institute, and the home entertainment divisions of CBS and Paramount held an unusual event: the theatrical premiere of deleted scenes from Twin Peaks and the feature film Fire Walk With Me. We don't see too many theatrical premieres for deleted scenes, but in this case it was a feature-length footage presentation with David Lynch, much of the cast, and some of the crew of Fire Walk With Me in attendance.
The event really began with a short introduction from David Lynch, and anyone who hoped that he might talk about the context of the footage or the history of the show would find that Lynch had something else in mind. His short speech almost reads like a eulogy to the Twin Peaks character who suffered the strangest fate of any in the series, as he extols the grace and value of wood. Watch his introduction after the break.
That embed is missing the very first sentence, sadly. (As is this one, which has slightly better audio but poorer visual quality.) Here's a transcript from Welcome to Twin Peaks.
There is an abundance of fish in the sea. But tonight, I would like to speak about wood. There are many times in the world when the phone rings and someone is inquiring about wood. This happens primarily at lumber yards and in this case, it's necessary to have a phone. It is only natural that trees are growing and that they are made of wood. Much happiness can come from observing a tree and the same can be said about observing the many shapes fashioned out of wood. Quite often when when we are talking about beauty, we are talking about wood. Thank you very much!
You'll be able to see all the scenes premiered last night when the Twin Peaks: The Entire Mystery blu-ray set hits shelves on July 29.