First Look: Jack Black Plays R.L. Stine In 'Goosebumps'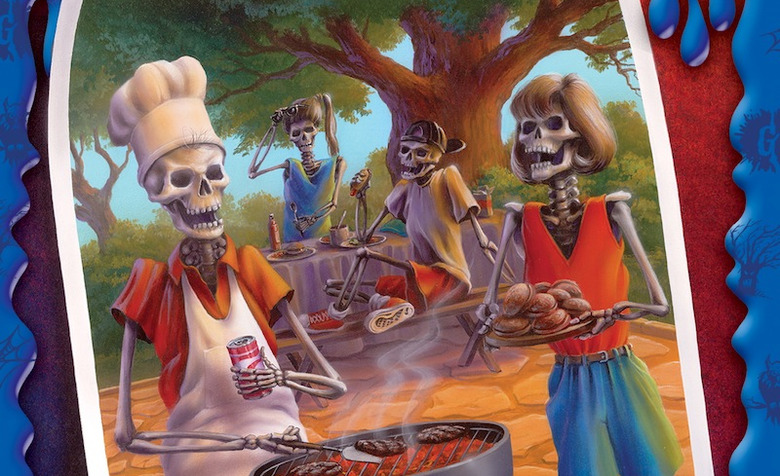 Columbia could've gone any number of ways with its Goosebumps movie, with literally dozens of Goosebumps books to draw from. But it chose to go the meta route, casting Jack Black as a fictionalized version of real-life Goosebumps creator R.L. Stine and pitting him against the very monsters that made him famous.
It's something of a change of pace for Black, who plays slobs and screw-ups more often than he does bookish types. On the other hand, the film's goofy tone looks right up his alley. Check out the first Goosebumps images, which also feature Odeya Rush and Dylan Minnette, after the jump.
[via Bleeding Cool]
In truth, Black doesn't look a whole lot like Stine. (Here's a photo of the real deal, for reference.) And the actor readily admits that he didn't try work too hard at the resemblance, describing his character as "more of a sort of curmudgeonly dark, brooding beast master." But those who really want to see Stine should keep their eyes peeled — Black reveals that the author has a cameo in the film.
Goosebumps opens just over a year from now, on August 7, 2015. Rob Letterman is directing.
In Goosebumps, upset about moving from a big city to a small town, teenager Zach Cooper (Dylan Minnette) finds a silver lining when he meets the beautiful girl, Hannah (Odeya Rush), living right next door. But every silver lining has a cloud, and Zach's comes when he learns that Hannah has a mysterious dad who is revealed to be R. L. Stine (Jack Black), the author of the bestselling Goosebumps series. It turns out that there is a reason why Stine is so strange... he is a prisoner of his own imagination – the monsters that his books made famous are real, and Stine protects his readers by keeping them locked up in their books. When Zach unintentionally unleashes the monsters from their manuscripts and they begin to terrorize the town, it's suddenly up to Stine, Zach, and Hannah to get all of them back in the books where they belong.