Japan Building Real Life Snowpiercer Train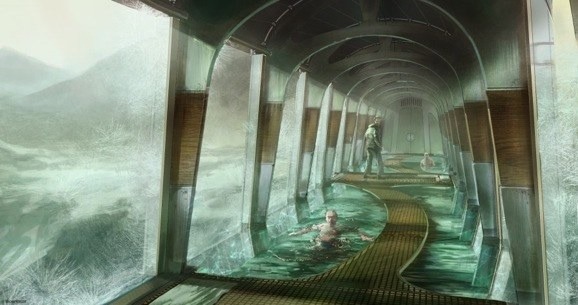 Bong Joon-ho's big screen adaptation of Snowpiercer imagines a massive luxury Cruise train powered by a perpetual-motion engine that travels around the world.  The film is a science fiction story that uses this construct to tell a story of haves and have-nots stuck on a train that has saved them from an ice age that has surely killed most, if not all, of humanity on the planet.
While I was watching the movie, I wondered to myself why hasn't anyone tried to make a luxury cruise-style train. Sure, I understand a global-connected track is not possible, almost as impossible as a perpetual-motion engine that runs the fictional train. But the idea of a luxury Cruise ship-like train seemed interesting. I can definitely imagine rich people spending loads of money to live in luxury as they watch the countryside pass by them at high speeds. Why have we not seen anything like it created? Is it that comically unpractical?
Well, Japan has announced the development of a new luxury train, called "The Cruise Train" which could be the predecessor of a real life Snowpiercer train. Details and photoa after the jump.
The new luxury Cruise-style train has been commissioned by Japan's JR East railway company and will be able to run on both electric and non-electric tracks. The 10-carriage train will cost about $50 million to develop, seat 34 passengers and hopes to begin running in spring 2017. The train was designed by Ken Okuyama, who worked as a chief designer for General Motors, a senior designer for Porsche AG and design director for Pininfarina, the company behind the Ferrari Enzo and Maserati Quattroporte.
The train will consist of five suites, one deluxe suite, two glass-walled observation cars, a dining car and lounge. The five normal suites will each have a private bathroom with a shower with a toilet. The deluxe suite will feature a top sleeping space on the split level with a traditional Japanese dining area, and two double beds on the bottom. The observation carriage at the front of the train will allow passengers to see onto the tracks ahead. Bad news: No pool or aquarium cars on this version of the Snowpiercer.
Here are some concept images courtesy of the East Japan Railway Company: