Universal Monsters Cinematic Universe Coming From Alex Kurtzman And Chris Morgan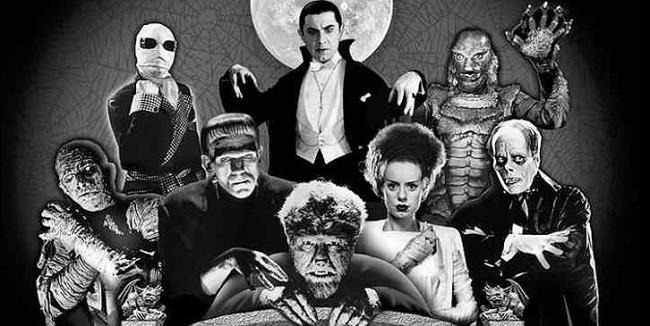 It worked for Marvel and now Universal is hoping it works for their monsters. A new report says Universal Studios is in the early stages of creating "a substantial new production endeavor" which will "expand and unify" the Universal Monsters properties, including characters such as Dracula, The Wolf Man, Frankenstein, The Invisible Man, and Creature from the Black Lagoon. The initial architects of this endeavor are Alex Kurtzman, of Transformers, Star Trek and Amazing Spider-Man 2 fame, and Chris Morgan, who wrote the bulk of the Fast and Furious movies. Potentially, this means all of the above characters would get their own movies before teaming up for an Avengers-type finale. Read more about this possible Universal Monsters Cinematic Universe below.
Deadline broke the news of the Universal Monsters Cinematic Universe. This whole thing is still in the very early stages but apparently Kurtzman and Morgan have begun to take meetings to find people who want to be a part of the initiative. The hope is the first film to kick this off will be a 2016 reboot of The Mummy, which has gone through a few directors and is currently vacant. It's also unclear if Kurtzman and Morgan will write some of these films, direct them, or whatever. But they're spearheading the idea right now. They'll also look at other films or properties who are using these characters and try to reel them in so it all fits under one umbrella.
According to Deadline, "this will be the first time that the studio has formalized an approach to these classic characters in a cohesive, connected way rather than as a series of stand-alone projects by disparate filmmaking teams." However, it's something Kurtzman and his former partner Roberto Orci (currently working on Star Trek 3) have been teasing for some time. Late last year, Orci – who, again, is no longer involved – said the following:
There's an interesting thing that could happen at Universal where they have this amazing library of their old monsters and these kinds of heroes, and the idea of trying to create a universe. [We're doing] Van Helsing, and we're also producing The Mummy for them. We're kind of imagining updating these kinds of things. You don't want to just make remakes when you're doing a thing, unless it's worthy of being a remake, but when you have an idea for something that can actually be made different and yet be true to what it was. We just had a notion of how to make it modern and have a slightly different tone. It's not going to be just a remake.
On paper, you understand this idea and it makes for some really exciting potential crossovers. Plus, the monsters are one of Universal's huge brands that rarely gets the love it deserves. But these properties are so special, it's going to take some real care to pull off this massive proposition. For example, The Monster Squad did a good job of it unofficially, but that's not necessarily the tone you'd imagine Universal will go for this initiative. Universal's also done crossovers like this multiple times in the past: Frankenstein Meets the Wolf Man, House of Frankenstein, etc. Plus the Abbott and Costello movies, there are tons. They've just never all been connected or had an effect on one another.
This also put into question the future of the Spider-Man franchise. While Orci recently announced he'd left that franchise, we assumed Kurtzman was still involved. We don't know that he's not, but shepherding multiple franchises at multiple studios doesn't seem like something everyone would be cool with. To be fair though, both were involved with Universal long before Amazing Spider-Man 2 "bombed."
What are your thoughts on this? Are Kurtzman and Morgan the right guys? Who would make for the best crossover?