Duncan Jones Wants To Follow 'Warcraft' With 'Mute'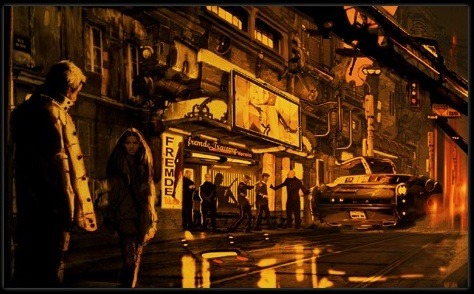 Even as he puts the finishing touches on Warcraft, Duncan Jones is already looking ahead to his next project. And though Warcraft represented a step forward for him in some ways (it's certainly his biggest film in terms of budget) it seems he's eager to go back to a project he's been working on for some time already.
Jones has hinted that he wants to take another crack at Mute, a Blade Runner-esque sci-fi project set in Berlin. If that sounds vaguely familiar, that may be because he's been talking about it on and off for years — since before Moon was even released, in fact. Hit the jump to read Jones's comments and learn more about his potential next film.
Thinking about what film I want to try and do after Warcraft. May give Mute one more push before I put it on the "Don Quixote" shelf.

— Duncan Jones (@ManMadeMoon) July 15, 2014
Jones's wording makes it clear that nothing is set in stone just yet. That said, post-Warcraft sounds like as good a time as any for Jones to give Mute another shot. Jones struggled mightily to get funding for Mute, even after Source Code turned out to be a hit. But if Warcraft is a success, he'll have more leverage than ever.
Mute unfolds in a futuristic Berlin, where a silent bartender is looking for his abducted girlfriend. Jones has likened his film to Blade Runner in terms of the look, setting, and tone. Narratively, it has a tenuous link to Jones's Moon. They're set in the same universe, and Mute was to feature a cameo by Sam Rockwell's character Sam Bell.
Jones had originally planned Mute as his follow-up to Moon, and then as his follow-up to Source Code, but financing has proved difficult to come by. Last year, he announced that he'd be publishing the story as a graphic novel from Dark Horse, but he clearly hasn't given up on his dream of making it into a movie.