Sequel Bits: 'Star Trek 3', 'Terminator 5', 'Godzilla 2', 'Hobbit 3', 'Expendables 3'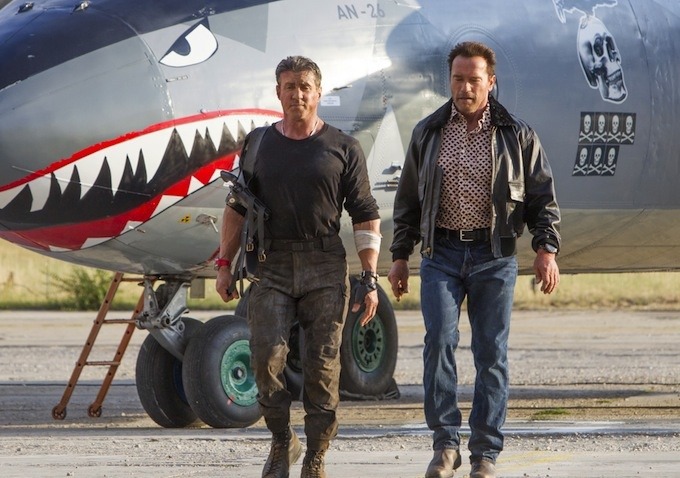 Get to know The Expendables 3's new recruits and new mission in two new TV spots. Also after the jump:
Roberto Orci isn't 100% set for Star Trek 3 just yet
Zachary Quinto drops some Star Trek 3 plot hints
Dawn of the Planet of the Apes writers talk sequels
Katherine Heigl wants a 27 Dresses sequel
Douglas Smith joins the new Terminator movie
The next Hobbit gets a new official synopsis
Will we get big Godzilla 2 news at Comic-Con?
How to Train Your Dragon 2 is flying to China
Well, I don't want to count my chickens before they hatch. The studio has yet to even read the script. I'm in the middle of writing it, with the talented team of [John D.] Payne and [Patrick] McKay. They are true Star Trek fans, as well. So, I can't even think anything about the future until I give them a script and they greenlight it. Until that happens, everything else is just a rumor.
Meanwhile, star Zachary Quinto is dropping hints about what Orci's Star Trek 3 might look like. "I think the five-year mission will be a part of this next film in some way," he teased. Orci has said the same thing in the past, so this particular plot point would seem to be all but confirmed. Assuming Paramount OKs it, that is. [Collider, Variety]
After Dawn of the Planet of the Apes' strong performance last week, it's practically guaranteed we're getting more Apes. The question is just how many more sequels the storyline can sustain. "We feel like it can be more than just another movie," said co-writer Rick Jaffa, "but if that's the way, we're really happy with it."
He added that the wheels were already in motion for the next installment. "There have been strategic, meaning business, discussions, but I don't think there've been any creative discussions whatsoever," he explained. And he sounds entirely optimistic about it: "I have no doubt that what we set in motion is going to pay off." [WSJ]
Katherine Heigl admitted earlier this month that she's maybe done a few too many romcoms, but even so she wouldn't mind revisiting one of them. "We need to do a sequel to that!" she said when 27 Dresses came up at a recent event. She also described her co-star James Marsden as "literally spit-my-food-out kind of funny," so the (purely theoretical) follow-up has that going for it already. [Vulture]
With cameras already rolling in New Orleans, the new Terminator movie has picked up one more cast member. Douglas Smith, known for Percy Jackson: Sea of Monsters and HBO's Big Love, has just signed on for an unspecified role in the sequel/reboot. He joins Emilia Clarke, Jason Clarke, Jai Courtney, and Arnold Schwarzenegger. The Alan Taylor-directed pic opens July 1, 2015. [Deadline]
Wondering what lie ahead in the third and final Hobbit movie? Warner Bros. has released an official German synopsis for The Hobbit: Battle of the Five Armies. The English translation is below.
From Academy Award®-winning filmmaker Peter Jackson comes "The Hobbit: The Battle of the Five Armies," the third in a trilogy of films adapting the enduringly popular masterpiece The Hobbit, by J.R.R. Tolkien.
"The Hobbit: The Battle of the Five Armies" brings to an epic conclusion the adventures of Bilbo Baggins, Thorin Oakenshield and the Company of Dwarves. Having reclaimed their homeland from the Dragon Smaug, the Company has unwittingly unleashed a deadly force into the world. Enraged, Smaug rains his fiery wrath down upon the defenseless men, women and children of Lake-town.
Obsessed above all else with his reclaimed treasure, Thorin sacrifices friendship and honor to hoard it as Bilbo's frantic attempts to make him see reason drive the Hobbit towards a desperate and dangerous choice. But there are even greater dangers ahead. Unseen by any but the Wizard Gandalf, the great enemy Sauron has sent forth legions of Orcs in a stealth attack upon the Lonely Mountain.
As darkness converges on their escalating conflict, the races of Dwarves, Elves and Men must decide – unite or be destroyed. Bilbo finds himself fighting for his life and the lives of his friends in the epic Battle of the Five Armies, as the future of Middle-earth hangs in the balance.
Peter Jackson's The Hobbit: The Battle of the Five Armies hits theaters December 17. [The One Ring via io9]
In 2012, Warner Bros. brought down the house at San Diego Comic-Con with the first bit of teaser footage from Gareth Edwards' Godzilla. Could it be planning to do the same this year with Godzilla 2? We don't honestly know for sure, but insiders have hinted that the studio has a big Godzilla announcement in the works. Keep an eye on our site next week for updates. [TheWrap]
How to Train Your Dragon 2 hasn't performed quite as well as Fox was hoping, but now it's getting a crack at one of the biggest movie markets in the world. The animated sequel has been approved to open in China, with a release set for August 14. [Variety]
To match its kid-friendlier rating, The Expendables 3 also features a (slightly) younger-skewing cast. Meet some of the new recruits in the TV spots below.
Directed by Patrick Hughes, The Expendables 3 opens August 15. [via First Showing]